Christian Science Fiction: Lynessa's Curse by Adam David Collings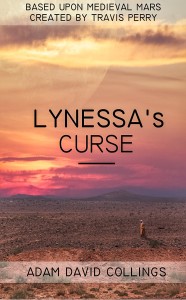 A quest with some large twists makes for a fun story. It takes place on Mars, 300 years after the collapse of civilization. The society is roughly feudal and the old technologies are seen as magic.
[yasr_overall_rating size="large"]
Most of my concerns come from being a short story
And I don't like them. But within the limitations, this is a fun little read. The social relationships and character development are pretty good, for a short.
Spiritually, it's a high 3-star tale
Christianity is barely a memory. But in the tale it's found expressed in vague religious memories. Yet, it's done realistically.