The Dividing Stone, Spirit-Filled Fiction by Anita Estes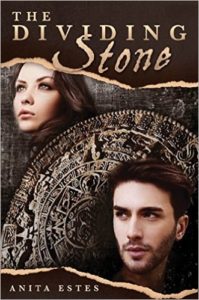 I would like to give the Spirit-Filled Fiction Award of Excellence to Anita Estes for her book The Dividing Stone. —Deborah Dunson
[yasr_overall_rating size="large"]
The blurb:
A sinister, dark force hovers over the unsuspecting valley when Margo Pierson discovers a tattered letter illuminating a mysterious ancestor and warning them of "a diabolical evil that stalks this town." Though preoccupied with preparations for the prestigious craft show, Margo, the young potter, is catapulted into a quest to unearth the truth and expose the uncanny murder of her namesake. Unwittingly, she and her companions stumble upon an ancient stone that holds the secret to both the past and present dangers. Caught off guard by her nemesis, Bill Guiles, he kidnaps Ms. Pierson and attempts to erase all she discovered of the secret society. Will their plans be thwarted? Will havoc be the new order? Will relationships be ruined and marriages annihilated? As the forces of good and evil engage in a spiritual battle in the heavenly realm, can Margo survive and foil the deadly curses set in motion centuries ago? Come join Margo Pierson and friends for a roller-coaster ride and supernatural adventure of your life! The Dividing Stone No one can escape it.
Some of my favorite books are those which have a spiritual warfare element. There is a lot going on around us that our natural eyes cannot perceive. That is why I was excited to read The Dividing Stone. This book shows you that the enemy is actively working to destroy marriages, divide churches and utterly destroy people's lives.
In this story you will see how satan will make something appear good that is actually bad, and that is how some believers are deceived. Deception comes in many forms and you can see it working in the lives of these characters. They allow the spirits of pride, power, anger, lust, division and other evil devices to take control until they forget about the Fruit of the Spirit. Only a few were willing to allow the Holy Spirit to lead and guide them.
Five star Spirit-Filled Fiction
In our rating system, this describes books with believers who are clearly born-again and have a deep hunger for scripture, but their relationship with the Lord is intimate. Their entire life is based on their intimacy with the Lord, and following Him through direct guidance from His Holy Spirit
The Dividing Stone is intense, powerful and full of the anointing power of God. I love how this story emphasized that prayer is vital and to make sure you seek God's face and not His hand.