Creative writing in the Holy Spirit brings power to our books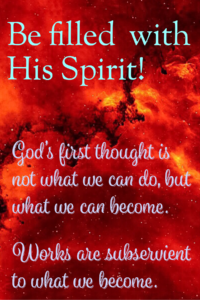 As we are obedient to write, as the result of His call, creative writing in the Holy Spirit becomes possible. But before that we must let Him, nay ask Him, to change us.
For Jesus' agenda is to make us into a functioning part of His Body, His Bride. Our task is to become not to write. Only if we allow Him to change us, and be transformed by the renewal of our minds, can we become who He needs to write the stories of power we are called and prepared to write.
Creative writing in the Holy Spirit is our call
Nothing less is acceptable. Nothing more is possible.
So, our focus along our writing path must be becoming pure and consecrated. This is the meaning of holiness. And we are called to be holy ones or saints, to use Paul's term.
Surely I'm going too far
Nope. If the Lord, God Almighty, has called you to write, this is the process you must undergo. But! Don't make the mistake of waiting to write until you're perfected. That will not happen until you are with Him, face-to-face at last. Creative writing in the Holy Spirit is a process. The further along that path you are, the better your books will be.
The better you know Him, the better your ideas become. After all, He created the dawn, a hummingbird, a morning glory, and you. He is love and truth. Your books will have no power until they contain and express both Love & Truth.
So, creative writing in the Holy Spirit is a high calling. Reading a book by such an author is a wondrous experience. May you write many books at this level. The world needs to read them. These are the works you were prepared to walk in, as you become the saint He hopes you'll allow Him to develop.
What a great life it is!