Christian scifi Dragon Warrior and the Princess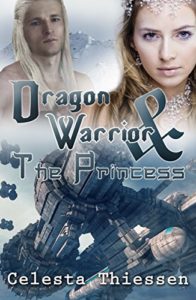 Christian scifi Dragon Warrior and the Princess is a wonderful tale. This is the second review I've written. I have no excuse for the first one. It came early in my reviewing effort, before I realized how bad most Christian fiction is. Now I realize that this story has much more spiritual content than most.
The main characters are complex and believable. The social interactions were very satisfying to me, but then I'm virtually a complete asocial clod. Nevertheless, the relationships seemed real, though peripheral people were too quickly covered occasionally.
This is definitely not hard science, yet it's believable. Overall, the story flowed well. Obviously, I enjoyed it a lot. It was much better the second time.
[yasr_overall_rating size="large"]
Christian scifi Dragon Warrior / Princess deserves more
I wish I could give Celesta a redemptive fiction award, but I can not because the redeeming Messiah concept is not covered at all. Yes, God talks with His people, prayer works, and a mysterious man appears and disappears. It's definitely a step up from religious Christianity. Believers will enjoy it. Heathens won't be offended.
This is pretty much a fantasy universe, so that can explain a lot of it. There is no direct tie with the one in which we live. There be dragons.
I can certainly recommend this book. You'll like it.