Messiah's Mind, Jesus is the head, we're the Body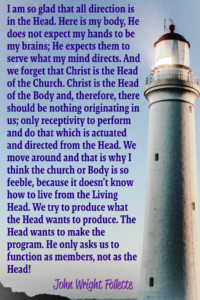 All of our direction comes from Messiah's Mind. If it doesn't we're fools, at best. Everything we do down here is merely the seed for what happens after we go. As usual, John Follette says it well:
I am so glad that all direction is in the Head. Here is my body, He does not expect my hands to be my brains; He expects them to serve what my mind directs. And we forget that Christ is the Head of the Church. Christ is the Head of the Body and, therefore, there should be nothing originating in us; only receptivity to perform and do that which is actuated and directed from the Head. We move around and that is why I think the church or Body is so feeble, because it doesn't know how to live from the Living Head. We try to produce what the Head wants to produce. The Head wants to make the program. He only asks us to function as members, not as the Head!
Messiah's Mind is our hope & strength
When you send us a book to review, it's a real disappointment to find entertaining drivel. When I read it, I hope to be lifted up into worship. I expect to be built up, edified, by the Truth found within your tale.
You're never going to provide that without seeking the Mind of Christ first, and throughout the writing of your story. You may be the storyteller, but your tale will have no real content without the help and guidance of the Holy Spirit.
Wonderfully entertaining tales will do you no good there
The choices we make down here as writers have eternal consequences. Good choices build character here which will develop there. There are no neutral decisions. Any decision will help you when you're with the Lord, or it'll be burned up. You need to carefully digest I Corinthians 3:
"According to the grace of God which was given to me, like a wise master builder I laid a foundation, and another is building on it. But each man must be careful how he builds on it. For no man can lay a foundation other than the one which is laid, which is Jesus Christ. Now if any man builds on the foundation with gold, silver, precious stones, wood, hay, straw, each man's work will become evident; for the day will show it because it is to be revealed with fire, and the fire itself will test the quality of each man's work. If any man's work which he has built on it remains, he will receive a reward. If any man's work is burned up, he will suffer loss; but he himself will be saved, yet so as through fire." ‭‭1 Corinthians‬ ‭3:10-15‬ ‭NASB‬‬
What you write should start in Messiah's Mind!
Please follow and like us: