Christian book marketing pushed out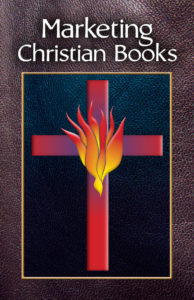 One of the things I want to do with this site is make it a valued resource for Christian authors and readers of speculative fiction and powerful non-fiction. I'm looking for your input on how we can do this. Let's state with the basic problem: we see Christian book marketing pushed out of the marketplace.
This is becoming more aggressive all the time. The response of Christian publishers is very discouraging. I cannot remember the last time I read a powerful book of Christian speculative fiction from a large publisher. Even former stalwarts like Bethany are increasingly irrelevant to those of us dedicated to writing, reading, and promoting books which will transform lives.
The almost universal response is to cut back on the spiritual content to make the books more palatable. As you know, this is what we saw Matthew, Mark, Luke, John, Paul, Peter, and the rest of the writers of the New Testament did. Right?!  No, they did not. It won't work in the 21st century either.
If our goal is to transform lives, we must write, read, and promote books of power. These books are available, but they remain largely invisible to the world and the church. So I am asking you to help me come up with ways to help get these books to their audience.
I believe the largest mission field we have in the US at this point is the organized church.
I imagine this is true in Britain, Scotland, Ireland, Australia, New Zealand, and the rest of the English-speaking world also. This is almost certainly reality in the rest of the world, as well. But we will need translating help for that. It's a huge mission field.
How can we crack it? What ideas do you have? I have several, which I will be bringing out as the Lord shows me how I can do it best. I am convinced nothing will happen without His anointing and the power of the Holy Spirit. But if this is as important as I believe it is:
It is time to get started!
Christian book marketing pushed out of Amazon
I read a good post this morning from Sarah at Marketing Christian Books entitled Amazon: Christian Authors Beware. She founded and heads up the Christian Small Publishers Association (CSPA) AFAIK. Here's a small quote from the post:
Amazon is not a Christian company, nor are they friendly to Christian books. Yes, Amazon lists almost every book for sale on its website, but that does not mean that the company is sympathetic toward Christian books. In fact, the opposite is true.

A member of Christian Small Publishers Association (CSPA) recently brought this to my attention. This gentleman had published an ebook on prayer via the Kindle Direct Publishing program. He then signed up to use Amazon's Marketing Services to run an ad campaign on his book. Amazon denied his ad campaign and cited their "Creative Acceptance Policy".

I urge you to go to Amazon and read this policy. This policy states the following:

Unacceptable Books: Books with content that is threatening, abusive, harassing, or that advocates or discriminates against a protected group, whether based on race, color, national origin, religion, disability, sex, sexual orientation, disability, age or any other category.
Restricted Ad Content and Books: There are several customer experience sensitive categories that are not appropriate for a general audience. The following categories may be restricted from the homepage and Kindle E-reader placements: Religious or spiritual content.

In addition, the email that Amazon sent this author stated, "we are unable to approve your ad if it contains overtly religious or spiritual ad copy, images, or symbols (for example, the Star of David, a crucifix, the Star and Crescent)."
I know that this is probably not a shock, but what are we to do about it? As we see Christian book marketing pushed out of Amazon, we also know it has no place at iBooks, Kobo, or Nook either. What can we do about it?
The Reality Calling Awards of Excellence
As you know, we award books based on spiritual content—not on writing quality. Is this clear when you see the award?
These have had a good response, but so far they have had minimal impact on sales for these authors. You may have heard something different. If so, please share with us your experiences.
What other things can we do to help in this mission?
Please write me with any ideas you may have. How can we fight the reality of Christian book marketing pushed out of the world channels? Add your comments to this post. This is a vital discussion we need to have, please participate.
Please follow and like us: