Grow up spiritually becoming perfect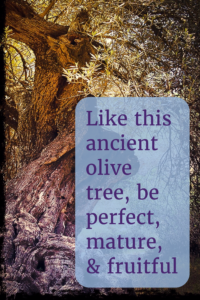 For the new year, the Holy Spirit within each of us, if we're born from above as a new creation, is calling each of us to grow up spiritually. It's time to get ourselves ready. For we can't bear fruit until we realize who Jesus has called each of us to be.
"Therefore be perfect, even as your Father who is in heaven is perfect."
‭‭Matthew‬ ‭5:48‬ ‭MEV
Whoa! To grow up spiritually means becoming perfect?
Yup! That's the Truth of the matter. But, we must understand what "perfect" means in the text. In the Greek, telios conveys the concept of maturity and completion. We become what He designed. We seek not to be goody-two-shoes, but grown up.
As John Follette says repeatedly:
We are not called to do, but to be…
God designed each of us uniquely. And, we work toward allowing Him to have His way with us. So, we become what we are truly called to be by design. Paul puts it this way:
"until we all come into the unity of the faith and of the knowledge of the Son of God, into a complete man, to the measure of the stature of the fullness of Christ, so we may no longer be children, tossed here and there by waves and carried about with every wind of doctrine by the trickery of men, by craftiness with deceitful scheming. But, speaking the truth in love, we may grow up in all things into Him, who is the head, Christ Himself,"
‭‭Ephesians‬ ‭4:13-15‬ ‭MEV‬‬
Later in the same chapter Paul tells us:
"that you put off the former way of life in the old nature, which is corrupt according to the deceitful lusts, and be renewed in the spirit of your mind; and that you put on the new nature, which was created according to God in righteousness and true holiness."
‭‭Ephesians‬ ‭4:22-24‬ ‭MEV‬‬
This shows us how the process works. In other words, we spiritually change clothes, putting off the controls of the mind and flesh. Then, we put on the new life in the Spirit which Jesus made possible. This way we grow up spiritually, becoming perfect, as He is calling us to be in this day and age.
Happy new year! Let's grow up!