Dystopian YA thriller: The Senator's Youngest Daughter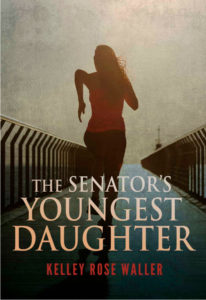 This book reads like a dystopian YA thriller —though the characters seem to be bit older. It's a familiar scenario. Here's the prologue:
Eight years ago, at the height of a media crisis centered on a controversial decision by the Supreme Court, President Scott Spencer stepped in to restructure the American judicial system. "We need freedom from unelected lawyers writing the law of the land," he declared.

Despite Pennsylvania Senator A. C. McFerren's hard-fought battle to preserve the balanced separation of powers, Congress ratified a Constitutional amendment to make the Supreme Court secondary, not equal, to Congress and the president. The next summer, to settle fears about instability in the new two-branch federal government, President Spencer suspended elections for offices in the executive branch, including his own. He extended his term "until the job was finished." The less-than-Supreme Court lacked the authority to overturn his executive order.

A year later, an ornery congressional representative referenced "secession" in a speech, causing a frenzy. The media fed the panic until President Spencer issued a directive that adjourned the state legislatures sine die, pending the president's personal instruction for them to reconvene. He promised "to preserve the Union" and provisionally absorbed most of the state governments' power. The president's influence once again overshadowed A. C. McFerren's constitutional defense when Congress made permanent the adjournment of the state governments with another amendment. Two years ago, the president's lawyers made the case before the demoted Supreme Court that, based on the wording of the amendment and the established precedent of the state legislatures' official dissolution, the president was authorized to permanently adjourn the American Congress.

One man now leads the nation single-handedly and single-mindedly.
It's the tale of a senator committed to bring America back to a constitutional democracy, run by the people, with a functioning balance of powers. The main characters are his wife and children, and they are lovingly depicted in their complexity as they head up the revolution to unseat President Spencer.
A dystopian YA thriller always has the problem of convincing the reader that the back story is true. Suspending unbelief and sliding into this world is not easy. But observing it from the outside is quite entertaining. The world-building is good. But it's occasionally lacking in plausibility.
[yasr_overall_rating size="large"]
The dystopian YA thriller is getting a bit old
It's done so often these days. But Kelley pulls it off. I throughly enjoyed the tale. However, spiritually it's really not there. But it's not evil, just clean.
The characters make this story. The familial relationships are complex and intriguing. Well, maybe they're intriguing because I've never really seen or met a functional family.
Kelley gave me a copy to review with no restrictions. I'm glad she did. This is a well-done story.
[yasr_visitor_multiset setid=0]
Please follow and like us: