Living within spiritual warfare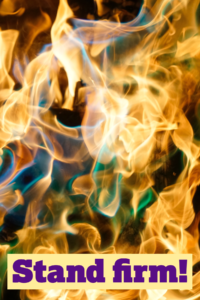 In reality, our daily lives concern living within spiritual warfare — If you don't understand that, your life fills with battles you can't win because you're not participating. Our goal becomes living victoriously.
John talked about this as the distinguishing characteristic of the young adult.
"I am writing to you, little children, because your sins are forgiven for His name's sake. I am writing to you, fathers, because you have known Him who is from the beginning. I am writing to you, young men, because you have overcome the evil one. I am writing to you, little children, because you have known the Father. I have written to you, fathers, because you have known Him who is from the beginning. I have written to you, young men, because you are strong, and the word of God lives in you, and you have overcome the evil one."
‭‭1 John‬ ‭2:12-14‬ ‭MEV‬‬
Young men here means youthful, male or female. So, a better translation would be …I have written you, youthful ones, because you are strong, and the word of God lives in you, and you have overcome the evil one. This is the first step of growing up. We overcome the evil one.
Babes know God as Daddy, the loving father. The mature know Him intimately as friend and trusted companion. Young adults learn to overcome the Creep.
Living within spiritual warfare is our daily life in this world
We know that we are of God, and the whole world is in the power of the evil one. I John 5:19 RSV
As we learn to live within the Kingdom of God, we quickly discover the truth of this verse. Satan will not let us go without a fight. In fact, by becoming a believer we have given him much more reason to hate us. He does not fight fairly, but seeks your destruction with himself in Hell. Living within spiritual warfare comes upon us as we open our eyes in reality.
Before we believed Jesus we were oblivious to the war and its daily battles. As babes in the Lord, His Spirit protected us strongly—letting us simply enjoy His presence as we came to know Him.
But remember, Hebrews tells us:
"If you are without discipline, of which everyone has partaken, then you are illegitimate children and not sons."
‭‭Hebrews‬ ‭12:8‬ ‭MEV‬‬
Yes, scripture tells us that we're bastards not heirs if He's not disciplining us. Be very concerned if you have no trials and tribulations. Either the Creep knows you're his and does not want to rock the boat. Or the Lord knows you are too weak to stand through a trial. Both of those positions hold great danger to your spiritual health.
Living within spiritual warfare starts with constant battle
BUT, this level of warfare is supposed to be transformed into quiet truth, the mature faith of a believer who knows His Lord intimately. This assumes you have won victory over many things in your life. Let me give you a short list of battles you must win.
Letting the spirit control your reactions to fleshly desire: illicit sex, entertainment, selfishness, eating, arguing, party spirit and sectarianism, violence, dominance, manipulation, and much more.
Building and maintaining a spiritually clean place to live: your home, your workspace, areas of responsibility need to be kept clean of enemy presence. You need to regularly clean up these areas in your life.
Learning to discern between the voice of the Lord, your own thoughts, and the darts of the enemy: This requires much experience and direct practice. It is true that the first two items must be taken care of first. However, learning to discern spiritual matters opens the door to your essential intimate relationship with the Messiah. You don't get to go to heaven unless you know Jesus, as His bride—deep personal, experiential knowledge.
This defines your daily battles as we are living within spiritual warfare on this earth. You must keep your workplaces and living spaces cleaned spiritually. I wrote my most popular post ever on this topic. This is something you'll deal with throughout your life. Yesterday morning, the Holy Spirit led me to spend some serious time cleaning out our home spiritually.
Yesterday's posting covered the necessity of keeping your workspace clean and protecting your hardware and software. You'll discover that antivirus software cannot protect you from spiritual attacks. A spiritual cleansing and blessing does more than you can imagine for your hardware, software, and online activity. Don't let it descend into mere habitual ritual either—the spiritual battle will be a continual presence in your life.
However, living within spiritual warfare becomes a victorious walk
You will grow to a place where large portions of your warfare become minor irritations. The battles continue to affect deeper levels of your character. This truly blesses us. The more we are cleansed and purified here on earth, the better our place will be in Heaven.
This training place in which we live remains the time where we make the choices which matter. What we choose here determines our usefulness and responsibilities once we make it back home. Once we know as we are known our path and position will already be determined. How we walk her is important.
"See then that you walk carefully, not as fools, but as wise men, making the most of the time because the days are evil. Therefore do not be unwise, but understand what the will of the Lord is."
‭‭Ephesians‬ ‭5:15-17‬ ‭MEV‬‬
The spiritual warfare will end. What a glorious time that will be! God's enemies will be eternally defeated. We will live with Him in the New Jerusalem provided that we learn to overcome while living within spiritual warfare here on earth.