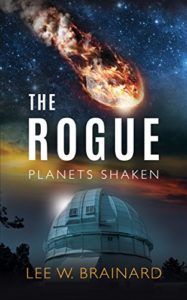 A huge asteroid cometh as we are told: "The second angel sounded, and something like a great mountain burning with fire was thrown into the sea; and a third of the sea became blood, and a third of the creatures which were in the sea and had life, died; and a third of the ships were destroyed. The third angel sounded, and a great star fell from heaven, burning like a torch, and it fell on a third of the rivers and on the springs of waters. The name of the star is called Wormwood; and a third of the waters became wormwood, and many men died from the waters, because they were made bitter."  Revelation 8:8-11 NASB
The astronomical theories are explained, which is fun. The story is fairly typical dystopian thriller fare but well written. The characters are compelling. There's a reality behind it all that is exciting. It's an entertaining story. Here's part of the blurb:
Set in a dystopian vision of the near future, The Rogue, the first volume of the Planets Shaken series, weaves the threads of biblical prophecy, ancient history, government conspiracy, and electric universe theory into a thought-provoking, tensely plotted thriller—one that asks us to reconsider the nature of the universe and the destiny of the world.
[yasr_overall_rating size="large"]
Of that, there is little doubt. It's fun to read a book where you can examine the possibilities. You will enjoy the read.
The rest of the blurb
"Men's hearts shall fail from fear…for the planets of the heavens shall be shaken" (Luke 21:26).

When rookie astronomer Irina Kirilenko discovers a planet-size comet in the Kuiper Belt on a collision course for Mars, she first faces stonewalling from the Minor Planet Center, then coercion and stricture from NASA. They press her to embrace an ingenious reinterpretation of her discovery and ban her from talking about it.

It slowly dawns on her that the government is fostering a massive conspiracy to keep the public oblivious to the truth—Earth is facing an existential threat. Unwilling to be silenced, she recruits fellow astronomer Ariele Serrafe to evaluate her discovery, placing both in the crosshairs of government agents."
I was given a free copy to review without restrictions.
[yasr_visitor_multiset setid=0]
Please follow and like us: