Daily Deliverance shows victorious living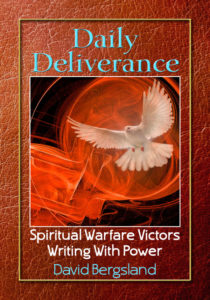 Daily Deliverance shows victorious living and a way to develop a place of peace in which to write your books. Many believers, especially those from mainline church or those new in their faith have never been shown how simple it is to overcome the evil one. The creep really has no power over you.
We know his weapons: lies, fear, confusion, interruption, panic, rage, and the list goes on. The Bible clearly shows us how to conquer these things in our lives.
I use the phrase, Daily Deliverance shows victorious living, to give you the battlefield
This is a daily process. Worded better, you never know when the Creep or his minions will attack next or how. So we are given our directive by Peter.
Be of sober spirit, be on the alert. Your adversary, the devil, prowls around like a roaring lion, seeking someone to devour. 1 Peter 5:8 NASB
Notice he acts like a roaring lion, but the reality shows us his true position—a defeated foe. Jesus put him under His feet at the Cross— confirming it by his resurrection. Yet, he continues the attack. I just received a phone call as I was writing, a robocall pushing fear and panic. So, I rebuke the creep and ask the Lord to get me back on track explaining what He wanted me to do with the booklet. Was it actually an enemy attack? Who knows or cares? My reaction and the prayer process work every time. My writing focus is back.
This type of thing is part of our normal Christian life where Daily Deliverance shows victorious living throughout our journey here on Earth. Below is the description of the book.
Writing transformational books for your readers
One of the worst hindrances to anointed book writing comes from enemy attacks. Another comes from temptations to the flesh. But the worst one results from the author not hearing the voice of the Lord clearly.
This little booklet shows you how to have victory in all these areas. This will enable you to write books which can transform your readers, by the power of the Holy Spirit.
This powerful teaching results from over forty years of learning, studying, and daily practice. The difficulty lies not in the processes, but your experience. Of course, the actual practice is fraught with procrastination, oblivion, and the harried nature of modern people working in the world…the Creep's social, cultural, political, economic, and entertainment system. The fact that we have complete freedom from his schemes stands in the face of our personal realities.
So, this testifies to its effectiveness…while recognizing our human limitations (which we foolishly allow). The world stands not above the Kingdom, but beneath. There is no reason for you to put up with the wiles of the devil. The Holy Spirit will give you the victory—every time. If you turn to Him.
Book availability
Amazon:  Kindle and print click here
iBooks, Kobo, & Nook: with more places coming click here
Gumroad package: with a DRM-free PDF, an ePUB, and a MOBI version you can use anywhere you like. Click here. You'll actually own copies of the book saved on your computer.
I need reviews and comments like we all do
Email me if you are interested. I can send you a PDF, an ePUB, or a MOBI.
Please follow and like us: