Extreme Speculative Christian – The Chronicles of the Sons of None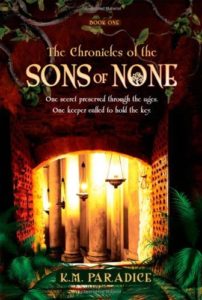 Extreme Speculative Christian • The Chronicles of the Sons of None blows the walls off the category—not! Like many books in the category, speculation rules and Biblical is left far behind.
As a promoter of redemptive fiction, I hate to say I enjoyed the book, but it's true. It was strange enough to work the brain…anti-Alzheimer's therapy. The suspension of disbelief never occurred but it mattered not. The wild ride sufficed on its own.
[yasr_overall_rating size="large"]
[yasr_visitor_multiset setid=0]
Extreme speculative Christian is quite sad
Here's the blurb for the book:
Since Adam and Eve were banished from the garden of Eden, the location of the Tree of Life and the Tree of the Knowledge of Good and Evil has been well guarded throughout the ages. There is one gate through which to enter, one key that will unlock the ancient gates, and one human keeper assigned to hold the secret. K.M. Paradice's suspenseful novel, The Chronicles of the Sons of None, follows Connor Bridges, a twenty-one-year-old recent photography graduate who dreams of fame and fortune in the pages of National Geographic. But when he meets Joshua, Connor is soon forced to admit the amazing reality of his calling to be the next in a line of keepers of the greatest secret of all time. There's only one problem: the powerful key is missing and is being pursued by Romulus—a keeper who turned away from his calling and ate of the two trees in Eden. The Chronicles of the Sons of None is a rapid-paced thriller that will rocket you through time and space, moving with seamless ease from the throne of heaven, to Jerusalem, to the legendary island of Atlantis, and back as Connor and Joshua, along with the help of a few angels, race to find the key. With Joshua's time on earth rapidly coming to an end, will Connor be able to return the key to its rightful line of keepers, or will the secret be lost forever?
Why sad? A fun read with no reality misses Truth almost entirely.
Entertaining it is
That being said, many will love it. The book has some truth about good and evil. I'd read it before I gave to one of my teenagers. But the book provides a fun read.
Please follow and like us: