Last Motley fantasy ignores spiritual reality for horror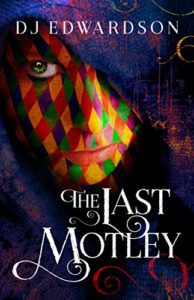 A great cover, a wonderfully entertaining book, but Last Motley fantasy ignores spiritual reality for horror. In years past, I would have loved it. I really enjoyed it now also—but the sparseness of Truth tempers my enthusiasm. That's probably because I'm facing going home in the next decade or so—so Truth and Reality mean a lot to me.
[yasr_overall_rating size="large"]
It's available now and you'll love the book! Here's the blurb:
Motleys. Candy-colored creatures with dark powers to drain the souls of men. That's what Roderick always thought. Until he met one. Now he's not so sure. But with seemingly everyone in the province hunting the motley down, he must quickly decide which side he's on.

Is the motley the living nightmare the legends say? Or just a child cursed by magic? Should Roderick save him from an awful fate, or turn him in? Either way, it seems like everyone wants to make sure that this will indeed be the last motley.
The Last Motley demonstrates very inventive fantasy
The story compelled me throughout. The characters crawl into your soul. The world built by DJ suspends disbelief very quickly. This is delightful entertainment. As you know, I don't usually like horror. But evil pervades this book without touching Reality. So, the reaction to the horror remains intellectual but not emotional for me. But then, I work in deliverance and spiritual warfare in my daily life.
It's only vaguely Christian—though believers will feel the comfort of that worldview. Non-believers will escape any troubling truths. Neither the Messiah nor the Creep makes an appearance. The Last Motley fantasy ignores spiritual reality.
Talk with your children
They need to understand the lack of reality. You can easily answer their questions. However, they must understand this is fleshly entertainment. Don't worry. The good guys prevail. The bad ones seem to be vanquished. I was given a pre-release copy to review.
[yasr_visitor_multiset setid=0]