Born of God just imagine how you changed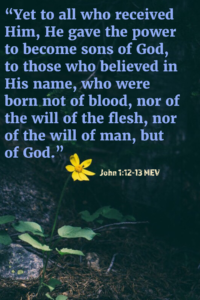 Today, I want to talk about this reality: Born of God just imagine — really. How many of us spend most of our lives merely thankful to Jesus for saving us?
We pray to Him, talk with Him, and watch Him work wonders in our lives. Yet, we miss the most important thing: we are born of God—no longer of the flesh, but of His Holy Spirit. We now live in a Kingdom. Truly He abides within each of us who trust in Jesus.
What we do fades to insignificance before who we have become: born of God just imagine
This changes everything—a new creation, a different kind of life: quantitatively and in basic nature. The carnal human dies and a spiritual person is born—a truly radical change to the root of our being.
We are no longer fallen, but born anew from above. Of course it takes a while to work it out. But, this is what our life on Earth is about. This place becomes our training ground where we grow up into our place in Him. The choices and submissions we make here determine our place there when everything dissolves in fire—made new for those who believe.
In training to be His Bride
John Wright Follete understood this. The Spirit used his teaching to open my spirit into more of the Truth about my Messiah. Though nothing changed, as far as fleshly perception was concerned when He called me to surrender to Him, the spiritual change was radical. I transformed fundamentally. The past four plus decades became a process of growth into who He designed me to be—uniquely me, unlike anyone else.
How wonderful that we get the opportunity to marry Jesus! We are called to be His helpmate, for He longs for that intimacy with us. That intimacy, where we know as we are known, increasingly becomes my fondest desire.
The veil covering our vision, in this place where we can only see dimly, grows more frustrating day by day. How glorious the marriage supper will be!
Please follow and like us: