Our suffering brings comfort resulting in a crown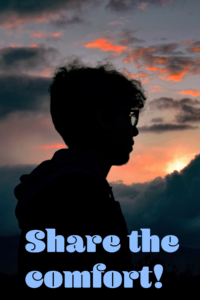 The Christian life builds on paradox. Many of the deepest truths result from actions or experiences which seem strange, at best. Take the phrase our suffering brings comfort as an example. This seems like foolishness, masochism, or much worse. It surely seems contrary to the current gospel being preached in the mega churches. I've been mulling over the following verses for a week or so.
Blessed be the God and Father of our Lord Jesus Christ, the Father of mercies and God of all comfort, 4 who comforts us in all our affliction, so that we may be able to comfort those who are in any affliction, with the comfort with which we ourselves are comforted by God. II Cor 1:3-4 RSV
Our suffering brings comfort
But only if we accept it as discipline and walk through it in faith. This time of training, that our lives are, only brings the desired results when we participate—without whining. Grumbling, complaining, and rejection of the situation bring only bitterness, depression (anger turned inward), and a downward spiral—which can go as far as suicide.
This brings life and death decision-making. Here we come to the core of our walk of faith. It can only be survived for good by turning toward our Messiah and humbly walking by His Holy Spirit. Herein we find victory in the comforts we receive along the strait and narrow path.
The Lord's Holy Spirit demonstrates to us, in crisis after crisis, why He's named the Paraclete—the One called alongside to help us in our need. This iPad does not have enough storage to write of all the miracles, tiny and immense, He has manifested in our lives while immersed in horrid, terrifying storms. In the past 44 years, He has shown us incredible things in the midst of terrible experiences.
We don't tell of the suffering, we share the comforts
It serves no purpose to tell the nastiness, terror, and horrendous things He brought us through with His wisdom, grace, and comfort. Things that were exceedingly difficult for us would not seem hard or even understandable to you. All our trials work this way.
My cross always remains unique to me. And, I must volunteer to pick it up for it to work well. Your cross reveals the personal discipline you need to be perfected. Remember, Jesus' command to be perfect means becoming mature—going through the trials, coming out victorious. Do not forget (and many excellent translations use children and child instead of sons and son—even KJV uses children)
"..the exhortation addressed to you as (children):

'My (child), do not despise the discipline from the Lord,  nor grow weary when you are rebuked by Him; for whom the Lord loves He disciplines, and scourges every (child) whom He receives.'

"Endure discipline; God is dealing with you as with (children). For what (child) is there whom a father does not discipline?

"If you are without discipline, of which everyone has partaken, then you are illegitimate children and not (children of God)." Hebrews 12: 5-8 MEV modified
Even more important, Jesus endured this type of experience.
Though He was a Son, He learned obedience through the things that He suffered, and being made perfect, He became the source of eternal salvation for all those who obey Him, Hebrews 5: 8-9 MEV
As discipline, our suffering brings comfort while building us into maturity and victory
Paul talked about this quite a bit.
Be anxious for nothing, but in everything, by prayer and supplication with gratitude, make your requests known to God." Philippians‬ ‭4:6‬ ‭MEV‬‬
Even more pointedly, he tells us in II Cor. 1:5 As the sufferings of our Messiah abound in us, so our comfort also abounds through the Messiah. He says elsewhere "provided we share in His sufferings".
The writer of Hebrews tells this wonderful Truth:
"Now no discipline seems to be joyful at the time, but grievous. Yet afterward it yields the peaceful fruit of righteousness in those who have been trained by it. Therefore lift up your tired hands, and strengthen your weak knees. Make straight paths for your feet, lest that which is lame go out of joint, but rather be healed." Hebrews‬ ‭12:11-13‬ ‭MEV‬‬
This is how we're expected to walk and live so our suffering brings comfort. Once the training disciples us, we harvest the crown when we marry our Holy Groom. Alleluia!