Allowing God's surprises into your box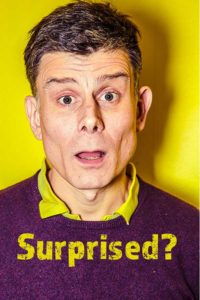 Now, let me start with a confession: most of this is new to me—though I've been walking with Jesus over four decades. Only recently have I begun the difficult journey back to child-like faith. It involves allowing God's surprises into your box. Over the years, I've allowed the trials of growth and maturity to cheat me. I've forgotten that I'm still the Father's little boy—and I always will be that to him. As I heard Jesse Duplantis say last night (watching a teaching of his on YouTube—see below): "I'm not God's adult, I'm His child."
This morning I was reading Revelation and read this: "But I have this against you, that you have left your first love." Rev 2:4 NASB  The Spirit said to me [quietly, in my spirit], "that's you." And I knew it was true. He showed me flashes of the joy I had during the early years of my faith—coming out of drug-crazed, ego-driven life as a hippy where I had wallowed from 1967 to 1974 when I met Jesus. Rather, until Jesus transformed my life.
The joy of those early years was incredible. I had allowed myself to completely forget that joy. I have grown up. I've learned a lot. But the child-like living of those early days was so much better than what I've slid down to over the past couple of decades. Shame on me. Forgive me, Lord Jesus!
Allowing God's surprises into my box of faith
The Lord's been surprising me a lot lately—as I've sought to regain the closeness of my relationship with Him. Just the fact that we were finally able to get moved to New York was a surprise. But, in the midst of all that struggle, He just gave us a handicap van with a lift for Pat's wheelchair or scooter. He provided a beautiful home to live in out here. We bought it unseen over the Web—and He did really good. It was a surprise on so many levels that we're simply stunned by His goodness. Pat was never in the house until after we closed and unloaded the 15 pods of junk we own [mostly into the garage]. The surprise was it's a place we would have never even considered a decade ago. It seems to fit us perfectly.
But what I am talking about has little to do with that. What I've experienced is the generosity and favor of the Lord, which goes far beyond what I can even imagine. This crystalized when I read the following passage of scripture this morning.
Now to him who by the power at work within us is able to do far more abundantly than all that we ask or think, to him be glory in the church and in Christ Jesus to all generations, for ever and ever. Amen. Ephesians 3:20-21
Don't limit God's responses by your lack of faith
What I had done was base my expectations on my experiences. This short-circuited my faith in Jesus. His resources are so large, His wisdom so great, and His power so immense that possible responses can often be far beyond what I can even imagine. I often do not even consider His eventual solution.
The Lord has shown me that I was limiting His power in my life by my limited expectations. It's amazing how much He will do if I simply remember how great He is. I mean: He's the Creator of the universe. It all belongs to Him. Evidently, He uses gold for paving and gemstones for building materials. Read Revelation 21 and ask Him for understanding. The New Jerusalem, where our mansions are, amazes me.
When you have the resources available to the Lord, many things we consider too expensive are merely petty cash to Him. The determining factor seems to be our lack of self-reliance coupled with a deep-seated need for God's help. The more I realize how dependent I am, the more He reveals His love to me.
The best surprises are so well orchestrated
Today for example [a week later], I was absolutely stunned. The state of the church has been really depressing to me lately. I haven't enjoyed a church service for well over a decade. Bad music. Apostate preaching. No presence of the Lord. No mention of the Holy Spirit. I can go on ad nauseum. We've been praying for a church home, with no real hope. But I'd finally gotten serious with the Lord about the matter.
This morning we were blown away. Great worship—not mere praise. Beautiful music, well done, yet wonderfully contemporary. Powerful sermon…on my favorite topic: walking in the spirit—from a man who obviously knew what he was talking about. Strong exposition of scripture. Plus, more genuinely smiling people than I've seen in decades.
All I can do is thank the Lord and try to avoid groveling. What can I say to such a loving move by my Master? A delicious surprise was served with love, out of the blue—joy unspeakable and full of glory. What a lovely God we serve!
How long has it been since allowing God's surprises has been part of your walk?
The problem is almost certainly on your end. Believe me, please. It's worth any effort you make to solve that problem. Jesus loves me and you with a fierceness we can never deserve or even be comfortable with. I mean He voluntarily died for us! How can I even comprehend that kind of love?