Faith motivates perseverance from the promise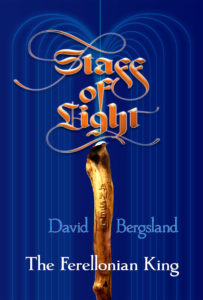 Faith motivates perseverance from the promise, but the promise comes first. I asked the Lord if He would help me and bless the Ferellonian King series. He told me He would. I told Him I would trust Him to do that. So, now I'm working on book 2.
My stance has always been that I want sales to come from the Lord. One of my favorite scriptures is: Therefore, having this ministry by the mercy of God, we do not lose heart. We have renounced disgraceful, underhanded ways; we refuse to practice cunning or to tamper with God's word, but by the open statement of the truth we would commend ourselves to every man's conscience in the sight of God. II Corinthians 4: 1–2 RSV
Marketing and advertising are quite questionable
I realize that my position radically questions HOW THINGS ARE DONE. But I don't concern myself with such things. To me, this means no marketing or advertising. Having worked in advertising/marketing from the production end, I've learned that these worldly techniques are really not compatible with walking in the Spirit. It is possible to do the work honorably. But seeing the Lord glorified because of it simply almost never happens. I put it in the same category as insurance. They are both substitutes for faith and trust.
Faith motivates perseverance from the promise
My new fantasy is anointed hardcore spiritual living—not for sissies. It couldn't be marketed through any normal channels, regardless. But, I have faith in Jesus' promise for my vision and that enables perseverance to write and finish books 2 and 3  with very small sales to start. My faith is that He will get things prepared for the release of the entire series. But that's His problem, not mine. My job is to be obedient to the vision. When I finish, I'll go on to the next. He takes care of my finances regardless. If the sales are good, He gets the glory. If not, the process of writing has blessed me immensely. It's all about Jesus and our relationship.
Advertising and marketing are not sinful activities—though they can become that quite easily. It is something to be careful with. Don't let my opinions sway your decisions unless the Holy Spirit confirms it in your spirit.