Indebted by Charmayne Hafen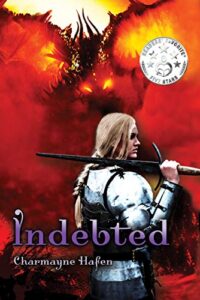 Indebted by Charmayne Hafen is an interesting fantasy with some unusual twists. It's about a young girl with some severe problems including abuse and abandonment. Through several events she becomes the best swords"man" in the "world?" She gets in trouble by hiding her gender and besting the boys. Of course she has to kill a dragon. But yet again there's a delightful aspect in all of these events.
The description reads better
When the abandoned princess discovers a friend, some muscle, and a passion for swords, she also acquires the crucible by which she uncovers the mysterious key to unlock her grief and win true freedom. Or will her strength confound her future in the kingdom to which she rides?

At the mythical edge of the Berkshire Forests, Wren finds herself rattling around in an austere castle, abandoned by the King and Queen. King Belodawn seems to blame his daughter for the mysterious disappearance of his wife, and he avoids his daughter at all costs in favor of conquests requiring his person away from the kingdom. But, things are about to change; the princess has matured. Wren's spirit refuses to remain the lost bird she became at age twelve. With the aid of the cook and the cook's son, Wren discovers her unknown dexterity in sword fighting. With it, she believes a new community in which to live will open up but is this young girl prepared to encounter deceptive ghosts, angels, and demons in the maze of the forest to attain her aim?
The entire story remains tenable. The character is believable and likable, however improbable. The character interactions are good. The story is fun. I enjoyed reading it, because of the unusual twists. The moral issues are handled well.
My overall reaction is that it is a book for teenage readers. Yet again, I enjoyed it. After I received my review copy, with no stipulations, it received a cover, a subtitle, and presumably another rewrite which I have never been until today. So, many of the problems might have been solved. But overall, I'm glad I read it, your teenager should like it, and you probably will also.