Bringing reality to Christian fantasy touches the heart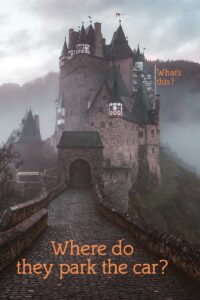 Bringing reality to Christian fantasy touches the heart, if you allow it. The virus has been a real blessing to me. I've been left alone to write eight or more hours a day. It's been a life-changing experience to live my life in a heroic fantasy setting—truly wonderful to see the Lord working before my eyes. If you take your life, and transform it into a Biblical style of narrative, it can open your eyes to what He's been doing all along.
Take the Acts of the Apostles, for example.
In the Biblical narrative, it seems like lives of constant miracles, interventions, and deliverances. Yet we know Acts covers around thirty years. If we space out the events on its real time-line, we can see that there were large periods of waiting, and simply living out their Christian lives.
How many times do we have an intense introduction to an area, a new work of the Lord , followed by "they lived there for three more years of fruitful ministry." From Paul being knocked on his butt to where he and Bartholomew headed out on the first trip were several [actually many] years of ministry and growth—evidently with nothing spectacular enough to mention. They were just learning how to walk in the Spirit.
Bringing reality to Christian fantasy touches the heart
Yet those years in between are what built them up to be prepared for the opportunities when they came. So, the reality we add is what we learned in those unmentioned years in-between. How would this hero or heroine live and learn, if they were you? That's the reality we can add.
A major confrontation with a demon infesting a sinner is easily and simply dealt with—after years of daily deliverances in one's own life within our family and church. The daily experiences are what build our faith. Then, when a major event takes place, it's handled as easily as the daily ones are—in faith, trusting in the One who is able. Our Messiah's yoke is easy and His burden is light. That is what we learn. And, that is what we must share with our readers.
This level of reality in fantasy tales is almost entirely missing from the genre
Though the trials of our characters are usually massive, over the top events, it's their character, developed in daily living, which takes them through. To make your stories real, show some of the ways your characters learned from the Lord. The scripture to contemplate is: "But the anointing which you have received from Him remains in you, and you do not need anyone to teach you. For as the same anointing teaches you concerning all things, and is truth, and is no lie, and just as it has taught you, remain in Him." I John 2: 27. MEV
This is the daily walk we must add—the things taught to us by the Holy Spirit in our daily living. For there's no time to learn much in the major events. We use what we've learned in daily living.
Please follow and like us: