All good things come to an end . . .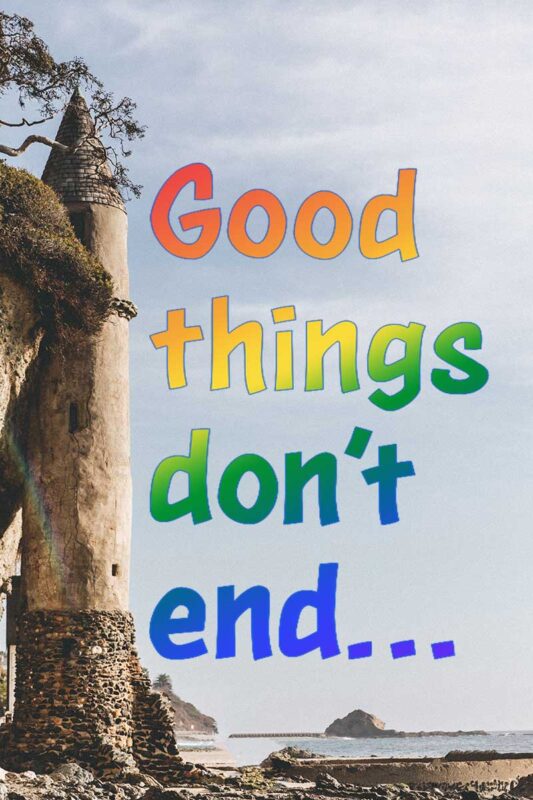 All good things come to an end — the thought slipped through my mind this morning as I near the end of my WIP. I thought nothing of it, but then it began to show signs of that all too familiar clamor. I began recognizing the works of the enemy.
Then the Holy Spirit spoke clearly, "That's not true." Not a shout , just a simple statement of fact. It set me back a piece. As I processed what He had said, the simple truth became evident. No good thing ever ends. Even creation itself will be set free from its damage, caused by sin, and become recreated, better than new.
All good things come to an end — Liar!
It's one of his lies, from the pit of hell. I guess what the Lord had for me today started in my scripture reading this morning. I more or less ended it at the man coming up and saying, "Good Teacher." Jesus rebuked him for that, replying "No one's good except for the Father." God is the source of all good. He is good, as well as Love.
Nothing of God ever ends. It is always good— and eternal. That little truth we need to bury solidly into the bedrock of our soul and spirit. The good things in our lives are what will survive the shaking, the great falling away, the horrid apostasy we see around us on all sides.
That's the fruit of the vine which grows in our lives. Eternal fruit, Good fruit. The character He develops within us, the relationships we build. The good deeds which come out of all this won't last. Our books will not be in the heavenly library —well maybe…? Nope. All that stuff will be burned up. Only the eternal will make it to our wedding with Jesus.
Think about these things, and be blessed
Tonight's the Feast of St. Nicholas. Not a good thing, but nice and comforting. I can handle some of that this year — in addition to the fact that I've been blessed beyond measure.
Merry Christmas!