Just avoid preaching with character witness in daily life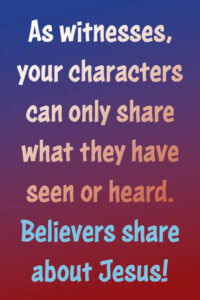 Just avoid preaching with character witness in daily life. Has it dawned on you yet that preaching is primarily for evangelists? For most of us, the simple sharing of what the Lord has done in our life recently is a far more powerful tool. That's true of your characters also.
We are all called to be witnesses. Few of us are called to preach. If your believing character has nothing to share, then your depiction of that character is seriously flawed.
Just avoid preaching with a character witness — simply sharing in his or her daily life
We all have little miracles and touches from God day in and day out. As witnesses we can only share what we have seen or heard. If that isn't happening in the life of your characters, you need to have a talk with them and find out what's wrong.
Remember, Jesus told us that eternal life was knowing God. That is knowing as in the sense of Adam knowing Eve, the intimacy of marriage. That is what our relationship with Jesus must be. Otherwise, we are in serious danger of being left outside the door, banging on it, screaming, 'Lord, did we not prophesy in your name and in your name drive out demons and in your name perform many miracles?' And all the Lord can do is respond, 'I never knew you. Away from me, you evildoers!'
If you do not understand how many good religious people are going to be left behind, you need to read, The Wife of Jesus. That little book will show you the call on Jesus' fiancee. If you do know Him, you'll be talking to Him all the time, and He'll be working wonders in your life to share, as you bear witness to Jesus and what He is doing in your life.
That's not preaching. But it is what your characters need to be doing. Or they are not real believers.
Please follow and like us: