Christian urban fantasy defined for me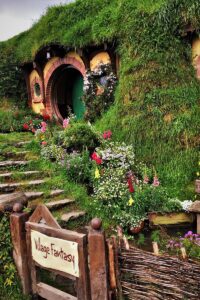 Christian urban fantasy defined for me as I get started anew. It's time for a new book. I'm drawn to Urban Fantasy because my stories are too edgy for Contemporary or even Paranormal Romance. Besides, my characters tend to know the Lord enough to not go through the angst of a romance.
Also, in this time of the signs, true belief in Jesus has become a fantasy for most—including many in the church. Because I'm one of those spirit-filled believers who actually believes that Jesus didn't change at the end of Acts, or when the canon was established for the New Testament. Hebrews tells me that.
So, how do I define Christian urban fantasy?
In the world, urban fantasy writers can be very popular, combining a edgy urban setting with fantasy elements like mythical creatures and magic. Of course, as believers, we know that many of these mythical creatures have a demonic origin. For example, there is good reason to believe that Norse, Greek, and Roman Mythologies were built on the giants, probably resulting from the Nephilim.
God had good reasons for the Flood. Yet, it is also obvious that the beings killed by the flood left their spirits behind, becoming what we now know as demons. That word was not used before the Flood. But these demons have the memories of those pre-Flood creatures.
Christian Urban Fantasy combines the dense worldbuilding of fantasy and science fiction with the gritty grounded reality of contemporary novels set in urban locales. If they take place in small towns they should technically be called Contemporary Fantasy, but that's not an option in most category lists like Amazon KDP or IngramSpark. 
7 Elements of Christian Urban Fantasy
Fantasy tropes: we tell stories in the modern world with the complex worldbuilding found in the occult and spiritual warfare. Fantasy story lines work well in a world that is growing increasingly insane. I list a few common tropes below.

 

An urban setting: Although small town urban fantasies make sense, most take place in present-day major cities. But you can easily explain that in your descriptions.
Magic: Supernatural elements, the occult, Masonic spiritual power, witches, warlocks, works of power, and miracles. All the wonders of the New Age, the counterfeits of the enemy, and the realities of spirit-filled living. A lot of this is brought into reality through people involved with role playing games. There are plenty of urban myths to go around. They are increasing as psychedelics are being used for psychotherapy. There's a reason why psilocybin is often called the Spirit Molecule. Experiences with demons are common with the psychedelics. All of these things will increase as we draw closer to the end of the age of the Gentiles.
A noir aesthetic: Worldly urban fantasies often contain elements of crime, eroticism, cynicism, moral ambiguity, cruelty, strangeness, and fatalism. This level of sin is not hard to find—in fact it is the new norm—prophesied by Paul in II Timothy 3. The stories are often set in remote or lawless areas—but that can be anywhere in modern America. We're largely isolated on our devices. This would include the dark net and many areas of online existence.

 

The stories are often about elusive phenomena or something that's just out of reach of the main characters.
Mythical creatures: Worldly urban fantasies are populated with supernatural creatures including (but not limited to) undead zombies, vampires, werewolves, druids, demons, aliens, shapeshifters, and perhaps a mage or wizard. The Christian variant realizes that as lawlessness increases humans role-play many of these mythical beings out in the real world. Plus, the satanic kingdom offers convincing counterfeits of these creatures.

 

A protagonist with a foot in both worlds: The main character of an urban fantasy is typically experienced in the real-life ways of their urban environment yet can also wield or exploit magical powers. So, our hero or heroine gets radically reborn. For us, we are talking about spirit-filled living using the spiritual gifts.
A young protagonist: Relatively young characters who practice wizardry or witchcraft are common in worldly urban fantasy series. Brand-new radically reborn believers have all the access to the realities of the Kingdom of God—often far before they understand what is going on.
Common fantasy tropes
The chosen one: One of the most common tropes involves a seemingly ordinary protagonist being plucked from obscurity in order to fulfill a great and singular purpose. Oftentimes, these characters are fulfilling the prophecy of an ancient text or dream.

 

The dark lord: This is a character who personifies the forces of evil—a magical overlord who commands vast armies. Could be an occultic wizard, witch, warlock—or just a demon-possessed billionaire.

 

The quest: A character going on a journey in order to complete a goal or task. The gives a calling or a vision to follow and obey.
The damsel or guy in distress: This character is placed in mortal danger by the bad guys and gals, requiring the hero or heroine to rescue her or him.

 

The mentor: A wise, elderly figure who educates the protagonist and gives them the training and information necessary to eventually save the world and triumph in the battle of good vs. evil.

 
What makes it Christian?
Jesus the Messiah. There are large portions of the modern Christian walk of faith that look like fantasy. Our society believes that miracles are mythical. Jesus is often seen as mythical in the post-Christian America. The world cannot see or understand the Holy Spirit.
The modern Christian is living a fantastic life—fantasy in an urban setting. We are living in a time where more people believe aliens are present [at least in UFOs] than there are people who believe Jesus rose from the dead.
We live in an urban fantasy world defined in this way.