Review: A Chain of Flames by Tony Cleaver, a gem!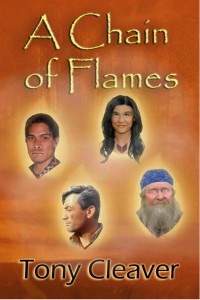 When I saw the cover, I said to myself, "Uh-oh." From the description, I saw this is not what I usually read. But the Holy Spirit kept urging me to read it.
This is a wonderful book
Eli Rathebohn is a depraved biker, who has never recovered from Vietnam, who makes what could only loosely be called a living delivering saddlebags full of drugs across the border from Mexico. His transformation is a real joy.
I don't want to spoil any more of the story, and believe me I haven't yet. But this is a tale of wonder as the Lord brings people together in an event that grabs the media's attention across the nation. The romance between an Osage princess driven toward worldly success and a young Cochiti man who meets the Truth on a peyote vision quest is touching and genuine, but not the focus of the story. The focus is on the transforming power of the Holy Spirit and the infinite love of our Savior.
You'll like this book
One can only pray something like this would really happen, today…