Review: Objects of Wrath by Sean T Smith: 3+ stars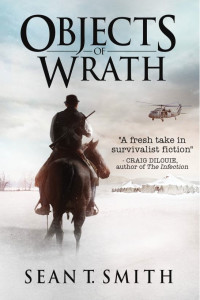 I wouldn't call this a Christian book except on a basic Old Testament level, maybe barely evangelical with some Christian morals but no savior. It's a gritty, tough view of the destruction of our world before the end times written by a Christian author. It's not post- but pre-apocalyptic. The Christian attributes of the characters are covered fairly well, in context, without preaching. But these are not radical, born-again believers walking in the Spirit.
This is about humans dealing with unspeakable tragedy
Some handle it well. Most do not. It is an interesting book. I'm glad I read it, but I wouldn't call it a fun read. It's too dark and desperate. The ending is too ambiguous.  But the coming of age and military aspects are quite good. I'd give it a 3+ if I could, but I'll give it a 3 because I can't say I liked the book and I do not see the scenario as a real possibility. I know many do. But I'd be really surprised. But many will love the book.
My dislikes?
There's a tendency towards what I call the lemming mindset—zombie variety. It's an appeal to a basic popular horror scenario, just because it is popular, as far as I can see. I don't think it helps the book, but it may make it more popular—especially amongst the heathen. I can easily see one of them rating this book at a 4 or even a 5.  At that point, Sean's gentle witness might work really well. I hope Sean has organized an intercession group for the readers of his books.
Related articles