Christian book review: The Pacific Rim Collection by Don Brown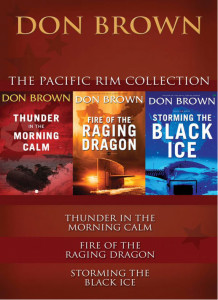 A three-book Kindle collection: a traditionally published, CBA-style (Christian Booksellers Ass.) ebook set by Zondervan.
I reviewed Thunder in the Morning Calm a while back. This is certainly not a technothriller from Dale Brown, but it's a nice book. It's more of a ministry advert for North Korean Christian rescue. We have little idea how bad it is over there.
Fire of the Raging Dragon I read just before I started reviewing. In fact, it was one of the reasons I started. I was so appalled with traditionally published Christian books and their lack of spiritual content. I enjoyed the story a whole lot more this time around. China starts a war with Taiwan beginning with an attack on one of the multitudinous tiny Spratly Islands (claimed by both) in the vast, often shallow sea surrounded by Vietnam, Indonesia, Brunei, and the Philippines, dragging the USA into it. Toss in crimes against humanity, the president's daughter, and we have a tale to be told.
Storming of the Black Ice was new to me. It was fun and the most Christian of the three. There were three romantic relationships of the action/military kind. One was more pure lust, but we are left with the belief that marriage is in the works. Vast oil fields are discovered under Antarctica. Britain/Chile battle Argentina/Venezuela over the right to drill for it.
The military portions of these books are exciting and believable. Fire and Storming both have compelling war startups. The action is fierce, but not too graphic. Lieutenant Commander Brown knows the Navy.
The people are interesting, both good guys and bad. They are nice stories. Not as bad as Minnesota nice which is a synonym for bland, non-adventuresome, and publicly politically correct. But there's no real tenseness. All threes are pretty predictable.
Spiritual level: mainline with evidence of true regeneration
The spiritual level surprised me. Usually traditionally published Christian books are a real dud. This is better than that. It's well done, realistic, no preaching. Some questionable stuff, but nothing seriously out of place.
Nevertheless, they are good reads, entertaining. You can do far worse than these three books.
Please follow and like us: