Christian thriller book review: Sky Zone: A Novel from the Crittendon Files by Creston Mapes
This is a fun read. It's a typical thriller with some very good Christian twists. Here's the blurb:
A rally for a controversial presidential candidate.

A terrorist threat.
A nightmare of cataclysmic proportions. 

Jack and Pamela Crittendon have hit the breaking point. After months out of work as a reporter, Jack is playing Mr. Mom and working part-time at Festival Arena with his survivalist friend Brian Shakespeare. Meanwhile, Pamela has gone back to work full-time while eight months pregnant. Having her recently widowed mother on hand isn't making matters any easier.

With financial pressures boiling, Jack reports for duty at a rally for controversial presidential candidate Martin Sterling where he expects a mindless night on the job. But when Homeland Security picks up intel about a potential terrorist threat, Jack and Shakespeare are thrust into a life-or-death battle to save their own lives–and the lives of thousands of innocent people.

This third book in The Crittendon Files reminds us of the power of family, friendships and faith–and why we are never in as much control as we think.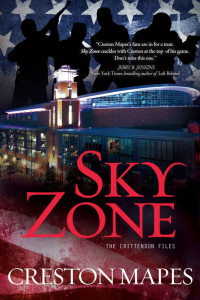 This book will not change your life, but it's definitely a step up for most current traditionally published Christian fiction.
This is merely entertainment
There's nothing wrong with that, but it's expensive fluff. It's positive, clean, and on the edge of boring. Creston is a good writer, but it's like hoping to see something really good on TV or in the movies. It's all aggressively heathen or pablum, in most cases. At least this is a good clean read.