#christianspeculativefic A Time To die by Nadine Brandes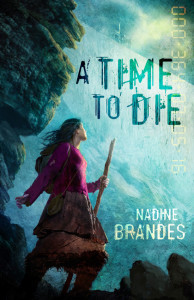 Barely Christian, exotically speculative, this novel seems to be a concept looking for a story. As the main character is lost and blindly roaming a world of fear and the unknown, the reader never really finds out what is happening either.
The blurb sounds quite interesting:
"How would you live if you knew the day you'd die?
"Parvin Blackwater believes she has wasted her life. At only seventeen, she has one year left according to the Clock by her bedside. In a last-ditch effort to make a difference, she tries to rescue Radicals from the government's crooked justice system.
"But when the authorities find out about her illegal activity, they cast her through the Wall — her people's death sentence. What she finds on the other side about the world, about eternity, and about herself changes Parvin forever and might just save her people. But her clock is running out."
The actual story is much less interesting. There's far too much teenage angst. As in many modern movies, shows, and books, the strange, exotic, and weird takes the place of insight, growth, and transformation. But Nadine seems to be a good writer. Her future work might be really good.
Spiritually there is really nothing here. God occasionally drops thought into Parvin's mind. But the whole thing is pretty hopeless. So, the Gospel is missing entirely.
Please follow and like us: