Christiansciencefic book review: Dawn of Destiny (Epic #1) by Lee Stephen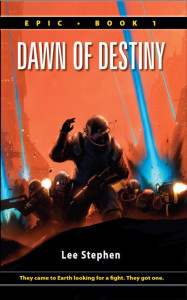 It doesn't get much better for a Christian Science Fiction military thriller. The spiritual side of things is downplayed, but realistic. As it all plays out in the rest of the series, the evangelical side of the hero might well set up more clearly in view. But the key is that it is done well in this first book.
The military side is wrenchingly violent with ugly nasty aliens as it would be if this scenario really happened. The spiritual side of the aliens are really not known as there is no explanation for the alien presence.
Evil is more present in the black-armored, Russian super warriors. But the characterizations are very well done. The people are realistically drawn and many are compelling.
Scott Remington is a true, Godly hero. He seems to be the only believer in the military.
But that's enough. I don't want to spoil anything. All you need to know is that aliens have invaded and Earth is fighting back.
For a scifi military thriller, this book is truly excellent. My only beef is that the rest of the books in the series are too expensive. I've got them on my wish list, but at $5 for book 2 and $7 for books 3 & 4 (as they say around here in southern Minnesota) they're a bit spendy.
Please follow and like us: