Christian fantasy book review: Half Blood by Jaye L. Knight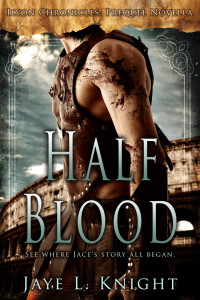 Ok, I'm amazed. A prequel novella I enjoyed. But then I've enjoyed Jaye's writing since she was running under another name writing the Makilien trilogy.
Half-blood is a prequel novella for the Ilyon Chronicles. This is a story showing where Jace came from. It's a little dark since his life was pretty horrendous before he grew up.
[yasr_overall_rating size="large"]
No control over his flesh
The story deals with this particular lie. Jace may have difficulty controlling his genetic makeup. But he does control it. Just like we cannot say, "The devil made me do it." He can't make you do anything.
It's really brief. I imagine it will make a good intro freebie.
Spiritually, there's just a hint
My hope is that Jaye will flesh out the spiritual aspects by the end of book three.