Christian speculative fiction book review: The Quest for Paradise by Guy Stanton III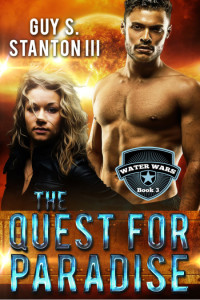 This is yet another superb book by Guy and a solid close to the Water Wars series. Like myself, Guy is a Biblical literalist. He takes it further than most—but that's expected of the top speculative writers.
He claims the quest will change your life. It might. But hopefully you know the Bible and the Kingdom of God well enough to at least consider the scenario put forth by the book.
[yasr_overall_rating size="large"]
Here's the blurb
A quest for endless power by some becomes a race by nations to learn the secrets long since buried by the few who rule the surface of the world.
They were warned not to meddle in the affairs of below, but in the face of planetary disaster choices are made. Choices beckon that could destroy what has been held so long in secret even as a brighter future for some is promised. All choices have consequences, but few have the responsibility of purpose to make the right ones.
Samantha has found herself in the unenviable position of being exclusively wanted by the government to take part in an exploratory science expedition that she considers not to be a wise move on her part. The alternatives, however, don't allow for choice in the matter, as she has no wish to deny her Heavenly Father's will for her life.
Christian Speculative Fiction with an edge—reality meets faith—The Quest for Paradise, a book that has passion, faith, and the intense action of resisting against the expansion of hell into our dimension.
This is Christian action/adventure at its best
The romance is always a strong driving force. But the main feeling, reaction, result of reading this book will be to grow closer to God and His ways. Do I believe Guy's work is prophetic? No! God is not speaking Truth at anywhere near a Biblical level. However, reading one of Guy's books always leaves me praising God and seeking to walk more closely with Him. What a testimony that is to Guy's work. He is truly one of the anointed masters of 21st century Christian fiction.
This is what I look for in a book: anointed concepts, spiritual truth, and a compelling world to live in for the duration of the book. His technical prowess gets better each book, as does his writing.
This is not polished prose, but raw, compelling storytelling.
[yasr_visitor_multiset setid=0]