Christian Urban fantasy: Sons of Thunder by Bowen Greenwood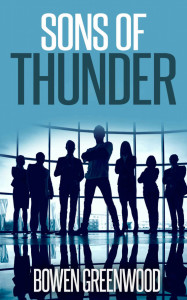 OK, urban fantasy, thriller, action/adventure, superhero, genre bustin' stuff, all right? It started out and I says to myself, "Self. This is silly stuff." It seemed to be fluffy teenage entertainment. But, I quickly got into the book and really enjoyed it, except for one fact: just as it was coming together, I get the note, "Sorry book over. Come back for the next installment."
Bowen assures me there will be one, but he said, "I have to confess though, it may be a while before that's ready." I hope he changes his mind on that.
[yasr_overall_rating size="large"]
The story is about old teenagers who start manifesting magical abilities. Or, maybe not. The reluctant hero finds himself in a convenience store getting robbed. He gets shot several times, his coat and clothes ruined with holes, yet there's no damage to his body… freaks him out. Here's the blurb:
What if God gave ordinary people miraculous abilities?

Connor Merritt risks his life to save the cashier in a convenience store robbery. He's shot three times in the torso and once in the head. He walks away without a scratch on him. Anna Wales is held captive in a government cell with no windows, one locked door, and zero way out. The next morning she's gone without a trace. Together, the two of them will learn that God is doing something new in our time. A new age of miraculous gifts is breaking out in the world. Now a team of young people will have to learn how to use their God-given Gifts for the good of all, while an evil counterfeit arises to oppose them. Their friends and family choose sides, their commitment will be tested, and they will learn what it really means to serve God. In a classic battle of good against evil, a new kind of hero will rise to take up a mantle and a name dating back to the time of Jesus: the Sons of Thunder.
Yet, with all of this, it's a compelling story.
As I read it, my disbelieving mind was won over as I realized that all these miraculous gifts were matched with Gospel works of power. Let's mention a few:
Healing: This one's obvious, right?

Indestructible: tied to Paul's miraculous survivals of stonings, and so forth

Teleportation: Jesus gets in the boat and it's suddenly miles away on the other side of the lake, and Philip takes his leave of the Ethiopian eunuch in the same manner

Telekinesis: Mustard seed faith to move mountains

Walk on water: Need I say more?

Replication: The multiplication of the fish and bread 

And more…
For me, the interesting side is the evil counterpart.
We know about that in the real world of the occult. Revelation tells us that the enemy will do this during the Great Tribulation. But Bowen handles all of this very well and produces a believable, involving thriller that I found myself caring about.
The characters are developed fairly well, though there's not much back story for any of them. The world-building part of things was basically ignored even though it's obvious that this is in the future and things have changed somewhat. The story is a fairly stock plot, but the details are well-done.
It's all believable, but a little thin. However, this is a short novel, under 200 pages, and that always leaves me wanting more. Basically, this entire tale is an intro where Bowen sets up the world and future thrillers, but this scenario only comes together on the last pages of the book (actually, the very last page).
Spiritually, this is 3-star, surprisingly
You would think with all the works of power that a solid Christian reality would be there. It's really not. The kids pray a little, and the prayer is crucial to the work for the believers. The bad guys think they're doing it all by their focus and will power. Doubt messes up the believers' works. All of that makes sense.
But there is no personal relationship with the Lord and King of kings. In fact, I do not recall Jesus being mentioned (though He probably is). Stunningly, the Holy Spirit is not named and has no place in the story.
So, it's mainline stuff, but it's not even religious. In fact, all the characters are anti-religious, with few exceptions. The good guys do come to faith, but there's no transforming regeneration. Interestingly, the miraculous powers do not include anything from Acts and the Epistles, other than healing and Paul's indestructible flesh (which is a stretched understanding in my eyes).
Beyond that, the standard gifts of the Holy Spirit: knowledge, wisdom, prophecy, discernment, and the rest are not even mentioned outside except for one character who can foretell a bit. God does not speak to his kids at all. So, it's a mixed bag.
However, I really liked the book. I'm giving it four-stars overall, for spiritual inventiveness I guess. It's clean, fun, exciting, and youth should really enjoy it. If course, I had fun reading it, and I don't really qualify as youth (except in my mind where I'm the same guy I've always been). I recommend this book.
[yasr_visitor_multiset setid=0]