Prophetic dream urban fantasy review: The Glimpse by Grant Carroll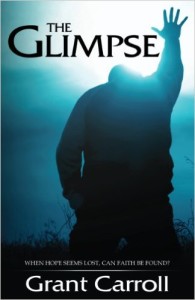 This is an enjoyable little read for believers. I believe it is meant as a frightening wake up call for mainline church members who are rarely taught how close the end of the Gentile Age is.
It's a fictionalization of a vivid dream. Some of it is already being experienced by the believers in America. It's an easy to enter, intriguing tale of Christian persecution and spiritual victory for a slightly future United States.
[yasr_overall_rating size="large"]
Spiritually, it's solidly evangelical
So, I'm giving it four stars. I didn't find it preachy, but there is a lot of shared scripture and evangelistic doctrine. It's about the final harvest of the United States.
[yasr_visitor_multiset setid=0]