Christian Fantasy Review: Emissary and Merchant of Alyss by Thomas Locke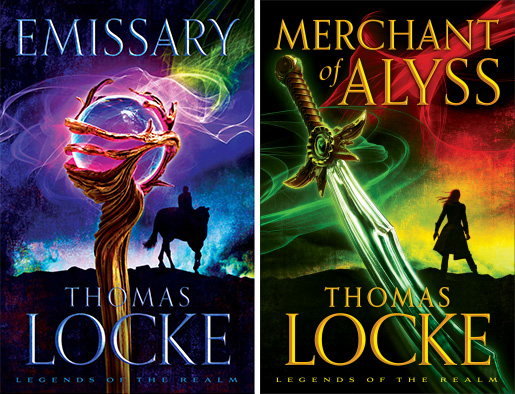 Christian only in that Davis Bunn is a Christian author, these books are supposedly a clean read fantasy. I can see why he chose a pseudonym.
[yasr_overall_rating size="large"]
Technically I guess this is true. Bunn is a superior writer, entertaining, with well-developed characters, a compelling storyline, and enough drama for anyone.The second book carries on a tale which was summed up and closed at the end of book one.
The Merchant of Alyss is a slight disappointment. In this book, Hyam is basically damaged goods after the battle in Emissary. As a result, we have a hero who is in more trouble mentally and emotionally. That's too bad. I suspect it will be resolved in the third book.
If you like epic fantasy, you'll like this one.
If you like high fantasy, this will do it for you also.
Spiritually, it doesn't do nearly as well
Though it's excellently written and very entertaining, this clean read has some definite problems spiritually. This has led me to add an Enemy Spiritual Rating. This one rates the evil at 3 stars. There's a clear battle with Satan, though it's never spelled out.
As far Hyam and the various magicians, wizards, and so on. They are entirely dependent upon their own strength. They can learn how to wield magic. But there is no spiritual component to it. So, spiritually, it's a one-star book.
[yasr_visitor_multiset setid=0]