Christian Political Thriller: Open Warfare, Book 2 in Hidden Thrones by Russ Scalzo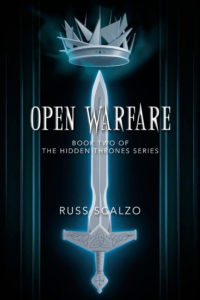 I know. The second book is where the trouble reaches its peak. Everything falls apart and victory seems far away. For me, it's hard reading a second book with no third book available. I'm beginning to see afresh my wife's practice of not buying a series until it's complete. That's much easier with romances, though. In a genre that large, you can always read something else while waiting for the series to be complete. In Christian speculative fiction, there is not nearly as much to choose from.
[yasr_overall_rating size="large"]
Spiritually, it just keeps moving along at the level of book one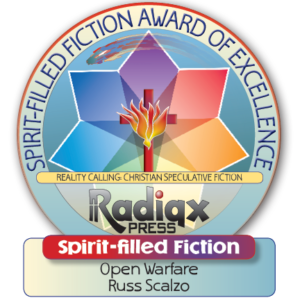 There is no way I can avoid the 5-star rating for the spiritual level. The evil is more visible. That may not seem realistic, but if the spirit world was visible to our minds—it might well look like this. We do need to remember that we are involved in a war. Much of what we do has warfare behind it.
I think my slight disappointment is due to the imagining of what goes on in the heavenlies, as opposed to showing what is going on in the mind of the characters. I didn't feel quite as involved in the thinking of the characters this time, as I did with Hidden Thrones.
I think my slight disquiet is the whole idea of demons impersonating humans. I used to believe the Flood happened to get rid of that possibility as well as the abominations produced pre-flood by demons having children with human women. Personally, I believed that our problem now is possession, people inhabited and controlled by demons. But in the scheme of things, the closer we get to the end, the more we will see the type of demonic activity shared in Open Warfare. The world is entering perilous times, and we are going to see many strange things— "as in the days of Noah" according to our Messiah.
If I hadn't read Hidden Thrones, the spiritual level might not be as clear. And to be truthful, I like the teaching included in book one. For many this book will be more comfortable, as it falls more inline with a Hollywoodized version of spiritual reality. But the fact is that what is shown in the book parallels the Truth in our daily lives quite well. As the world (the kosmos or world system controlled by Satan) hastens toward destruction, we will see the enemy grow more frantic in its efforts to destroy mankind. The more I think and pray about it, the more I see Truth in Russ' fiction.
It's a fun read, but I can hardly wait for for the next one and some resolution.
[yasr_visitor_multiset setid=0]