A new Christian Religious Fiction award to Leslie Basil Payne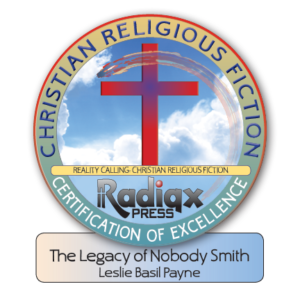 The Legacy of Nobody Smith is being recognized as Christian Religious Fiction by Deborah Dunson. She tells us that Leslie Basil Payne's book, based on a true story, is a powerful example of religious fiction which will edify believing readers.
Religious Fiction is rare among Christian books
I originally was of the opinion that there were many solidly spiritual Christian romances and/or testimonies: fiction or non-fiction. It's been sad to discover that there may be fewer here than in speculative fiction. Almost everything is a clean read. But, almost nothing has any spiritual power. This is true of even testimonies.
We need to pray for our authors—that they'll have wisdom and courage to write books which change lives. Good sales are nice, but no one will remember that part in Heaven.
This is what we look for, encourage, and support: books which transform readers' lives.
Here's Deb's review:
My heart stopped at this line in the book, "I became a nobody when I was fifteen years old."

And then I wanted to cry when Smitty's daddy said, "Outside scars heal, it's the inside ones I worry about."

This story ripped me to shreds and then put me back together again piece by piece. It is so full of the love that Christ has for us that you will walk away from this book a changed person. I wish we all had a Smitty and Charlie in our lives, those true soldiers living for God and loving people. And showing us that we are somebody in the sight of God.

This is an amazing book. I cried some many tears, not because it was sad, but because of the real love that radiated off the pages and leaped into my heart to challenge me to be a better Christian.
[yasr_overall_rating size="large"]
Leslie's book earns an Award of Excellence for The Legacy of Nobody Smith
This is given to books with clear Christian content with no mention of redemptive rebirth or walking in the spirit. This is what Reality Calling rates as three-star spirituality. Even Christian Religious books are becoming very rare—in all genre. Redemptive and Spirit-filled fiction can only be described as scarce.