Christian horror: When the Watcher Shakes by Timothy G. Huguenin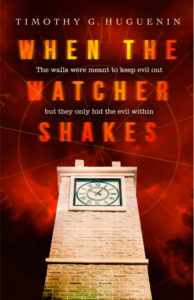 Those who know me realize that I normally turn down any opportunity to read horror. It's not that I have anything against Christian horror. I simply find it boring. I've been involved in spiritual warfare ever since I was added to the Kingdom by Jesus in the mid-1970s. Horror does not come close to the real thing.
[yasr_overall_rating size="large"]
For a first novel in Christian horror, it's good
I don't want to imply that it's not a good book. I actually enjoyed it even though it is close to another genre I don't like: mystery. Books like this remind me of that recent ad where 3-4 teenagers are scared to death, and there's a car idling a few yards in front of them. One says, "Let's jump in the car and get out of here." The others squash that with a, "No, let's go hide back there in the creepy old garage with the mist coming out of the door."
But outside of the basic stupidity required in horror characters, they are likable and interesting. Even the bad guys, horrible as they are, are believable. The world built in that holler in the West Virginian mountains is interesting. The horror is Pharisaic legalism run amok.
Spiritually, it seems to be 3-star, but actual Christian religion is missing
I agree legalism is nasty, producing fear, abuse, and irrational actions by all concerned. The book shares good morals and a clear right and wrong. I won't spoil anything. But it will keep you anxious—if you're into that kind of stuff.
I wish I could say it was four-star and several of the characters good and bad were saved with transformed lives as a result. But that did not happen.
The book is to be released in July. Timothy gave me a free review copy with no strings. As I said, if you like horror, I suspect you'll like this book. As for clean: it's a bit rough on the characters in spots, but there's nothing graphic that I can remember.
[yasr_visitor_multiset setid=0]