Original spontaneous creative Lord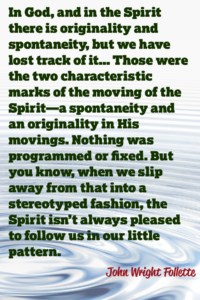 How often do we forget we serve an original spontaneous creative Lord? We look for formulas, methods, and plans. But we need to be like Him in all ways. His character is clear, and this is the essence of that love. Creativity is the result of omniscience.
This is our problem. We don't know enough. The reason we were forbidden to eat of the knowledge of good and evil is simple. Our brain is not equipped to process all that data. In the Lord, we are hooked up to the hyperspace of the universe and much more.
As Paul wrote:
Now this I affirm and testify in the Lord, that you must no longer live as the Gentiles do, in the futility of their minds; Ephesians 4:17
Sin did this for us, for our minds are trapped in this futility until our rebirth. Eating the forbidden fruit cut Adam/Eve off the creative network of God. Mankind was trapped in the limitations and futility of his fleshly soulish personal access to information. As amazing as our mind is, it suffers from the extremely constricted access we have to data. We only have what is available to our senses.
We can only see small portions of light, sound, smell, taste, and touch. Those senses are our only access, and they are completely clueless about the spiritual. Before we are reborn, our only input is from the flesh and the Enemy. Even the creep is limited to soulish and fleshly temptations. The occult promises spiritual knowledge, but this information only leads our destruction. The enemy comes to kill and destroy.
This is why I'm so opposed to entertainment. It's part of the world system, ruled by satan with the specific goal of destroying all knowledge of Truth. He's the father of lies and deception. Entertainment has become one of his major victories over the past couple of centuries.
Our only hope is our original spontaneous creative Lord
As the Spirit enables us to believe the Truth, our minds are set free to hookup to the omniscient network of God. In the Messiah we are connected to all knowledge, true wisdom, and love—but only in His Holy Spirit. This is the glorious Truth of the Gospel, we "have been called to live in freedom, my brothers and sisters…" ‭‭Galatians‬ ‭5:13‬ ‭NLT‬‬
Walking in the Spirit is living within His omniscient wisdom. This is why we are so creative. In Him, we have access to all the possibilities. Anything available is now part of our creative processing in the Spirit. Read the quote from Follette in the graphic above. He's talking about how things worked in the immediate aftermath of Azusa Street. This was my experience in the original spontaneous creative Lord also. What we saw and experienced in the mid-1970s was another creative flood of the Holy Spirit. Everything was transformed. What I sought in the delusions of Timothy Leary's LSD-induced mind tripping became reality in the Lord.
"Christ within us, the hope of glory"
Here was Truth incarnated placed within me. Suddenly my psychedelic landscape ink washes showed a reality beyond my fleshly capabilities. My poetry and lyrics became transformed into new, powerful expositions of Truth with a clarity far beyond the contortions of my nearly destroyed, supposed genius. As I watched the Lord heal and rebuild my mind, the place in which I had lived all my life, I discovered what I had almost lost forever. Real creativity emerged from the wreckage as Truth rebuilt my soul.
This is what I wish to share with you. That the Lord wants to transform your entertaining stories into powerful tales of Truth. All you have to do is ask Him, and then listen for His rhema as He transforms your storytelling into prophetic tales where the Lord talks directly to each of your readers individually. If the Holy Spirit infuses your tales, you will see wondrous results in your readers.
This is what the original spontaneous creative Lord had in mind when He called you to write
Turn to Him and experience what He has for you as you follow His lead in obedience to what He shows you minute by minute, day by day, as long as you live. You live forever. How wonderful is that?