Remixing creativity counterfeit is the world's best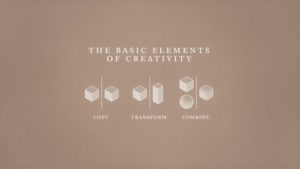 The remixing creativity counterfeit is very interesting. In one way, it's the way creativity usually works for those of us tied to the limits of the world. This is a fairly old (for this age) argument that nothing is created without context and environment.
But that is only true for people stuck within that world. These are indeed the rules of the civilizations into which we were born. But there is little or no Truth there for most. Truth comes from the outside.
The remixing creativity counterfeit is a lie
This discussion started for me this morning with a long article in New Atlas, formerly Gizmag from Australia with small beginnings in 2002. The article is entitiled:
It documents remixing as Rich Haridy sees it—implying its presence since the dawn of civilization. The basic idea is that everything is copied, transformed, and combined. He includes Shakespeare, Gutenberg, Star Wars. Plus, he discusses a huge number of other references more briefly. I may call it the remixing creativity counterfeit—but it certainly is common. There are several remix videos—most of which are simply ugly, but the point is made. The originator does a better job. One of the main videos is by Kirby Ferguson who seems to have explained it best, from what I've seen:
Of course, the copyright lords freaked out. If this disappears, the video is called Everything is a Remix. The builder is Kirby Ferguson and he includes these notes with this remastered version:
Published on May 16, 2016
Please note: This is a repost. The original video was blocked because of copyright. This version has a minor edit but is otherwise identical to the version posted in September 2015. A new Everything is a Remix video is coming shortly.
But it's out there—spread online far beyond any hope of stopping it. He released the next one: Everything is a Remix: The Force Awakens three days later.
Kirby has several other videos along the same lines. But are we surprised? No!
The world is only capable of counterfeits
Only Christians can even understand this. You need the Holy Spirit to know the Creator—the creative Lord God Almighty. Only he can make something from nothing. The creep is just a liar and deceiver. His world system [called the kosmos in Greek in the New Testament] is built on this foundation of lies. All he can offer are counterfeits to the real deal offered by the Lord God.
BUT, it's important to realize that the Kingdom of the Messiah stands outside the kosmos. In addition, we remember that believers can offer Truth, as inspired by the Holy Spirit. We are set free from remixing.
Most of us still do it—out of habit. Because, remixing is how we were taught, how we learned, and how we lived. But only before we met the Creator, right? Remixing is just a bad set of reflexive actions from the old man or woman. We are set free from that, as we are from death, right?
Or are you still stuck back there? I know I am—far too often. The world is hungry for the real deal, the Truth, something new. Only anointed believers can offer this. Because, creativity is only found in the Creator and in those made "one with Him". Alleluia!
Are you ready to open to the Lord?
This is where "greatness" lies. Only the Lord is good, great, wonderful, and almighty. Only in Him do we have any hope of true originality—a giraffe, an ecosystem, and mankind itself. What a God we serve. Praise you, Lord Jesus!
Please follow and like us: