It starts from above always in the Messiah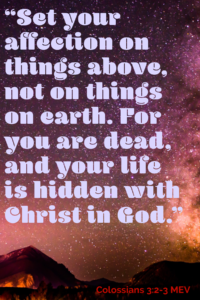 For the Christian author, it starts from above — always! Anything good we produce comes via the Holy Spirit. Your books will have no power without rhema, which is that Word from the Lord specifically targeting the readers of your efforts.
It won't happen by accident, for the Lord only comes in when you open the door. He never forces His way into your stories or teachings. He must be specifically asked in, before you start, every time you write.
You will be amazed at both the quality and the content when you invite Him into your tales and messages. He can and will transform them, but only if you invite Him and welcome His presence in them.
 It starts from above as you ask
He is the Creator, and you're His channel. This is the Gospel, the Messiah within you, the only hope of glory. Like we see in Exodus, we become that skilled workman God provided in Bezalel.
"See, I have called by name Bezalel the son of Uri, the son of Hur, of the tribe of Judah. I have filled him with the Spirit of God in wisdom, in understanding, in knowledge, and in all manner of craftsmanship" ‭‭Exodus‬ ‭31:2-3‬ ‭MEV‬‬
Oh Lord, may you do that in us, so that the works of our hands speak with transforming power to our readers.
It starts from above in Jesus!
It is His delight to give us the Kingdom, sharing the power of His presence through our lives. As a result of coming to our senses, this transforming anointing will saturate our books. Plus, this rhema will impart life to our readers.
And you thought your call was simply to write. That's true, but there's so much more possible. Turn to Him for the power to change the lives of your readers.