Character not stories matter in your books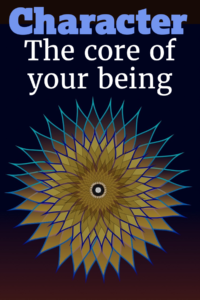 So, you're called to write, and your books are important to you. But in the Lord's eye, your character not stories matter. Who you are is His primary focus. This is always His focus, and what He loves about you.
Jesus put you together specifically to be you. The author part is not just what you do. To be fruitful, it must be an organic expression of who you are. In other words, your character is revealed in your stories—like it or not.
This is the main reason our policy of reviewing a book on its spiritual context is so offensive. Because, it is a commentary on the author's character. And sub-consciously they know this. Normal reviews only talk about craft and emotion. We dare to discuss Truth and Reality.
Character not stories matter
Truth trumps edgy speculation, every time. The problem is harsh. You cannot express unappropriated truth. Your tale cannot share what you do not know. Unless you allow the Lord to anoint your writing, you'll never get beyond yourself.
You can't even copy others. There's no life in that. Somehow, you must internalize the story until it becomes yours—an expression of who you are, Who you know, and what Truth you truly live out in your life.
Calling forth reality
The characters, world, rules, laws, and all the rest express a story containing reality. Or, the book is a waste of time and effort. World building is wonderful fun. But its foundation must be true and good. There are enough books of entertaining fluff built on lies and darkness.
As women and men called to write, we can actually offer truth, good, and reality in our tales. We can share righteous heroes who inspire the reader. These wonderful characters can be important or insignificant in the eyes of the world. The only thing that matters is whether they reveal people whose lives express truth, hope, and wonder.
All that matters to me is the spiritual reality revealed!