Coming of age fantasy Refugees offers a highly inventive world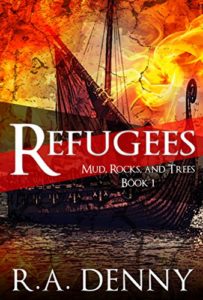 The coming of age fantasy Refugees offers a highly inventive world that can be a bit disconcerting. After all, the three main characters are a humanized duck, flying squirrel, and armadillo. But the suspension of disbelief comes quickly.
The blurb
An epic journey of a lifetime." That's what three young individuals from three different corners of the world have dreamed about. They were destined for greatness since the moment they were born. But what if they don't want it? What if they're not ready? What if their desires no longer align with the prophecy?

The problem is, they have no choice. The star has appeared. Their destiny has already begun to unfold.

It's not the send-off that they've been dreaming of. Forced out. Banished. Raided. This wasn't how it was supposed to be. Now they must discover who they really are while embarking on the most exciting journey of their lives. One star. One impossible task. One chance to save the world they love.
[yasr_overall_rating size="large"]
The coming of age fantasy Refugees brings that escape from reality
One of the reasons many of us read fantasy is the escape we find from the boredom and nastiness of the real world around us. Refugees provides that relief within the context of a familiar storyline. The world itself is fairly sketchily drawn, but it's the first book of a six-book series. This book focuses on the three main characters.
Spiritually, there's not much here. There's an all-powerful god, but no savior or Holy Spirit. Spirituality is on the periphery of the tale. Of course, as the first of six, much of the content is hinting about things to be discovered in following books, I'm sure.
It's a good clean read, and I enjoyed it. It should work for mid-school or older. Your children will enjoy it.
[yasr_visitor_multiset setid=0]
Please follow and like us: