The Divine Space Pirates dystopian science fiction fantasy is well done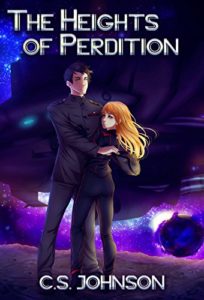 I just read an excellent romance in The Divine Space Pirates dystopian science fiction fantasy by C.S. Johnson. It is dystopian, reads like an epic fantasy, while it's clearly science fiction—with a nicely done romance. It's not nearly as strong as The Warrior Kind—but it's very good. It's much more an urban science fiction fantasy.
[yasr_overall_rating size="large"]
Divine Space Pirates dystopian science fiction fantasy
The story is well crafted. The characters are complex and intriguing. The world building is well done and feels complete with very few thin spots. Aerie is a wonderful female lead, very attractive. The male lead is a little weak, on the edge of stereotypical. But Exton's general predictability is tempered by the complexity of his life story.
The tales' bad guys really shine. Male and female, they are realistic, full of surprises, and strong. The remains of government on Earth is a mess, really oppressive, and scared to death—as you would expect from a dictatorial society built on fear and control.
Here we are introduced to the world, discover the conflicts, and watch a delightful romance between Aerie and Exton. Of course, there's the cliffhanger ending.
This book takes everyone and society as a whole into war. Like any battle scenario, there's twists, difficulties, problems, and surprises. The biggest surprise is probably the ending.
Spiritually, it just didn't make it
It seems like a Christian book. But there's no savior or Holy Spirit. There is a group of people who are religious, holding onto the old values. I seem to recall statements that were Biblical. But it was all flat, though it feels good.
it's a clean book, safe and exciting for teens. I enjoyed it a lot. I hope further books will resolve the spiritual issues I have with the first two books. This is why I hate to give reviews of parts of a series. But I am looking forward to the future books in the series. The Starlight Chronicles was seven books. I have no idea how long this one will be.
[yasr_visitor_multiset setid=0]