Review: The Last Place To Stand by Aaron K. Redshaw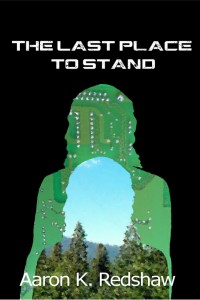 This is not a Christian novel [though it was given to me as one]. The author is a believer. He claims the series will end up with Christian parts–eventually. It's clean and inoffensive now. Nothing more.
"1984" modernized
That taken care of, this is 1984 updated and rewritten as a technological futurist thriller. The technocrats have taken over and it's not pretty. Conceptually, the book is quite interesting. Small groups of people have opened their eyes and seen how bad it is. They are living in semi-wilderness survival mode outside the city. Then it falls apart and the evil is revealed as technology run amuck.
Aaron's descriptions of how bad smart phones and social media can go is compelling. The concept is very believable and chilling. But I don't want to spoil it.
The book desperately needs some spiritual reality
I really hope that the series gains some spiritual depth. The issues raised require spiritual answers. But that remains to be seen.
Aaron gave me a copy of his book in return for an honest review. At present, it's a bit over 3 stars—a fun read, but it needs spiritual reality. It doesn't have that yet. But I am definitely looking forward to the next in the series.