Christian fantasy review: Orphan's Song by Gillian Bronte Adams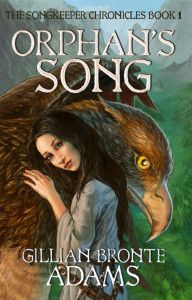 Book #1 of The Songkeeper Chronicles is out to acclamation by the readers of her blog. She is a polished, online, social communicator who obviously loves to write and is very good at it. Her debut novel (after a few short stories) is very well written. She has all the pieces, and she'll probably be quite popular. If you like fantasy, you should buy a copy of this book and read it. However, there are some issues for me.
It's a depressing book
Book 1 is just one disaster after another. There is momentary relief, but nothing really positive. It's all angst and no joy. The characters are intriguing and well-developed. I should like some of them. But to be honest, I'm still reeling from all the disasters. Plus, nothing is resolved, at all, in this first book of the Songkeeper Chronicles.
Birdie, believe it or not, is the heroine's name. She's an orphan, saved as a baby by a griffin who dropped her from a great height during an attempted rescue. She was picked up (uninjured I think) on an unknown road in a country without a map by a man. He brought her back to the inn run by he and his wife where Birdie is introduced as a very badly treated, very young slave and the book begins. The cover image shows her about as happy as she gets in book one. Here's the official blurb:
Who Will Keep the Song Alive? 
Every generation has a Songkeeper – one chosen to keep the memory of the Song alive. And in every generation, there are those who seek to destroy the chosen one. 
When Birdie's song draws the attention of a dangerous Khelari soldier, she is kidnapped and thrust into a world of ancient secrets and betrayals. Rescued by her old friend, traveling peddler Amos McElhenny, Birdie flees the clutches of her enemies in pursuit of the truth behind the Song's power. 
Ky is a street-wise thief and a member of the Underground—a group of orphans banded together to survive . . . and to fight the Khelari. Haunted by a tragic raid, Ky joins Birdie and Amos in hopes of a new life beyond the reach of the soldiers. But the enemy is closing in, and when Amos' shadowed past threatens to undo them all, Birdie is forced to face the destiny that awaits her as the Songkeeper of Leira.
Now you know as much as I do, and I just finished the book. I really can't tell you more without spoiling something. But I actually do not know much more now than I did when I started the book. I still don't know who the Khelari are except they are nasty and probably evil. Their master is certainly evil, by the end of book one I know little more than that about him. We get a few quick glimpses of some good guys, but their path veers off and we see them no more in book one.
Amos is a good guy, I think, but I'm not sure about that either. He is certainly much more than a peddler. Ky should be a compelling figure, but I don't really have a handle on him either other than the obvious: he's yet another orphan thief. Birdie, Amos, and Ky are drawn together against the forces of evil, I think—but that's not clear either. Actually, they are placed together and struggle to stay together, but there is really no compelling reason for any of them. Amos is the the only person Birdie trusts, but that trust is on real rocky footing. Ky feels like he should, but that's about as strong as it gets.
Spiritually, there's nothing real or compelling
Gillian says she's a Christian and I believe her. In the well-hidden background, there seems to be a god. But there's no evidence of a savior, so this cannot be considered a Christian book. The songkeeper is overwhelmed by a force of great power from outside her, but we are given no idea where it comes from—other than we can guess that its source is what might be god. But, he's not talked about at all in book one. His name is only mentioned a few times, and to be honest I can't even remember what it is. It's really not relevant to book one.
So, should you get a copy for your children?
Only if you read it first and make sure you get your children involved in a discussion about it. This is a clean read. The cursing is wonderfully inventive, but not foul. There's a fair amount of physical violence and a lot of emotional damage. There is really no spiritual help for anyone—though there is hope that we'll see something like that in book two. Book one is a dark book which ends on a vaguely hopeful note. I truly expect to be much more enthusiastic after book two. But that's really the best I can give you.
Enclave gave me a free review copy in exchange for an unbiased review.
Please follow and like us: