Christian fiction review: The Patmos Deception by Davis Bunn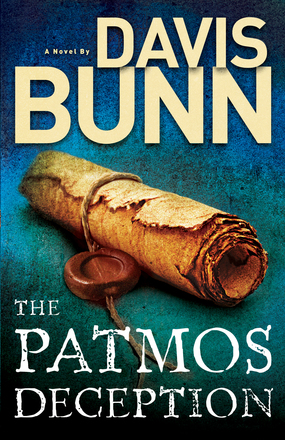 The official blurb…
An Ancient Island Holds an Ancient Secret . . .
Nick Hennessy, a young Texas journalist yearning for his big break, finds himself in Europe–his assignment, to investigate the alarming disappearance of invaluable Grecian antiquities. Nick has the credentials–and cover ID–to unearth the truth. And he knows just the researcher to help him…
Carey Mathers, fresh from her studies in forensic archeology, has accepted a job with the prestigious Athens Institute for Antiquities–a dream come true, really, particularly when the Greek isle of Patmos, where the Apostle John received his vision of the Apocalypse, was a particular focus of her research.
Dimitri Rubinos, for whom the Greek islands represent his life, holds on by his fingernails to the family charter boat business. But his country's economic chaos isn't the only thing that has turned his world on its head…
---
Here we have a high quality example demonstrating my main concern about traditionally published Christian fiction.
The story is more than competently done. Davis Bunn is one of the true professionals in our industry. He knows all the nuts and bolts using them to craft an excellent story. The problem with the tale is the lack of spiritual power. It's not a Christian story.
It has all the pieces. It takes place on the Isle of Patmos. The historical explanations as well as the current culture are very interesting. The characters are very well described with depth. The relationships are compelling and intriguing. Some of the characters are obviously believers. But there is nothing of true spiritual power, merely religious emotion. God is not made real, because He is not really part of the story. This is about religion, not relationship.
The tale is told cleanly and up to Christian Bookseller standards. But it is all so boring—because the Lord never shows up and the Holy Spirit never reveals His presence in any way. I guess I need to coin a possibly new phrase. Instead of PC for politically correct, this book is RC for religiously correct–designed to offend no denomination. It reduces the story to pablum and I grew up into a need for meat and substance a long time ago. Baby food no longer satisfies. Solid food is all self-published these days because of RC realities.
As a result, the story is mere entertainment—very well-done entertainment. But by next week, I will have probably forgotten this pretty trifle. Because there's really nothing here other than momentary diversion. There's nothing wrong with this, but it could have been so much more.
I was given a review copy by Bethany in exchange for an honest review.
Please follow and like us: