#christianepicfantasy book review: The King's Scrolls, Book #2 of the Ilyon Chronicles by Jaye L. Knight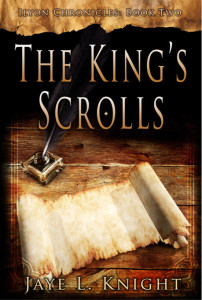 This is the second book in a planned five-book series called The Ilyon Chronicles. I really dislike waiting for series to be complete. But…
It's as good as I hoped!
Here's the blurb from the Amazon page:
"Following the harrowing events that brought them to Landale Forest, Jace and Kyrin have settled comfortably into their new lives and the mission of protecting those under the emperor's persecution. The fast approach of winter brings with it the anticipation of a quiet few months ahead. That is until the arrival of four mysterious, dragon-riding cretes who seek aid in a mission of great importance—not only to their own people, but to all followers of Elôm.
Hidden in the vast mining valley north of Valcré, a faithful crete has spent years sharing his knowledge with the destitute miners and their families. He is known to possess what may be Arcacia's last surviving copies of the King's Scrolls—the Word of Elôm. Joining the cretes, those in Landale must find the crete teacher and bring him to safety, but it is a race against time. Should Daican's men find him first, his execution and the destruction of the Scrolls is certain.
When disaster strikes, all seems lost. Could Elôm have a plan even in the enemy's triumph?"
This is a typical second book of a trilogy: doom and gloom, disaster after disaster. But the characters remain intriguing and they are people I want to know better.
I wish the spiritual level would climb a little
It's still not really Christian (no savior). The Lord does interact with his people, but there are no healings, prophecy, spiritual warfare, and any of the reality of a walk of faith. The life of a believer is all about hanging on by tooth and toenails, hoping to make it somehow. That may be reality for many younger believers, but there is no maturity offered to give hope. The reality of God's presence within is not part of this book. The good people know about God and try to serve him. That's nice. The scriptures are kept safe, seemingly—with a great deal of effort. But there is still no general knowledge of them.
However, the story is very good. It's an excellent new book from a promising young author.
Related articles
Please follow and like us: