Christian Science Fiction Romance book: Sherdan's Legacy by Jess Mountifield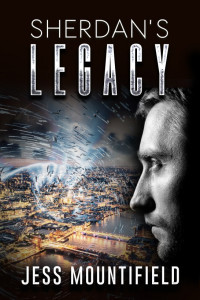 The second book in Sherdan series continues the vision and reality of Sherdan's Prophecy. When Jess offered me review copies of the second and third books in the series I was excited. Both of these books met my expectations for exciting and entertaining reads.
Anya's relationship with Sherdan continues to develop with some very rough patches for both. Here's the blurb:
Now that Utopia is established Sherdan has a full time job as a diplomatist. Everyone wants to know how his country is protected and whether they can persuade him to part with his secrets, but he has other things on his mind. Has Utopia come at too high a price?

When Anya left Utopia she expected to fit back into her old life, but too much has changed and God is not finished with her. Did she make the right choice in leaving and will Sherdan let her return, even if she wanted to?
[yasr_overall_rating size="large"]
Spiritually, this one is slightly disappointing
In Prophecy, Anya shows a strong, deeply spiritual faith of compelling reality. In legacy, that reality slides over into obvious fiction, and that's sad. This second book feels more like mainline Christianity. The view of walking in the spirit is not nearly as obvious.
The twists and turns in this book are exciting and believable. For the non-believer, this book will possibly be more interesting than Prophecy. For the Christian reader, it is still very good—though the suspension of dis-belief is a bit more difficult.
Regardless, this is a very good book. You will be glad you read it [unless, of course, you are easily offended].
[yasr_visitor_multiset setid=0]
Please follow and like us: