Biblical historical fiction review: The Stone of Ebenezer by Susan Van Volkenburgh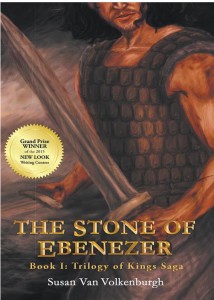 If you know me, you realize that I do not read Biblical fiction out of concern that I might add something fictional in one of my Bible studies.  I teach a lot from memory, and I do not want Biblical fiction in my memories. I volunteered to review this before I really noticed it wasn't fantasy.
[yasr_overall_rating size="large"]
I'm not sad I read it
But I won't read more as far as I know. It confirmed my preconceptions. It's a violent, bloody book filled with rage and revenge. It may be realistic, but we have no way of knowing.
Scripturally, it's a mess. The tale is the death of Eli amd his boys, and the rise of Samuel as prophet. This book is full of quotes, footnoted. The vast majority are post-Samuel: Psalms, Isaiah, amd even from the New Testament. These blow the authenticity of this story.
It would be better, in my opinion, to write the same story as a true fantasy, using the same references. Then you could actually have the Holy Spirit and a Savior.
But I cannot recommend this book. It's a good story, but it's too compromised spiritually.
[yasr_visitor_multiset setid=0]