Christian fantasy review: By Divine Right by Patrick W. Carr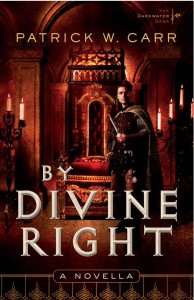 This may not be quite as compelling as A Cast of Stones, but it's close. That book may be the most compelling read I had that year. This short novel is rich, exciting, and satisfying. I won't call it a novella, though Patrick does. It's far better than any other I've read and feels like a full, but short novel. It has the potential to be even better than The Staff & The Sword series. Highly recommended.
Did I mention it's free?
The Darkwater Saga prequel
[yasr_overall_rating size="large"]
Actually, this looks like one of those free giveaways to draw people into a series. It worked. I am certainly looking forward to the series. The culture is intriguing. the people are realistically drawn in depth, even in the novella. This is a place I want to visit.
It's a wonderful, complex, compelling world
One of Patrick's strength is his world-building. The characters are very interesting. In a book this short, many areas are given mere introductory glances, but Willet Duran is a good one.
Willet Dura ekes out a living as an assistant reeve in the city of Bunard, the royal city, investigating minor and not-so-minor crimes in the poor quarter. Ever since a terrible battle, Willet's been drawn to the dead, and has an uncanny ability not only to solve their crimes, but even to know when one has been committed.
It's hard to say what a reeve is. Maybe an appointed P.I. comes closest, but Willet is more than that.
Spiritually, this is a weak three
His weakness in The Staff and The Sword series was the religious nature of the "church". There was no real presence of the Lord in that world, fascinating as it was. The Darkwater Saga gives me hope as he mentioned in this intro novella a triune god. Hopefully, this is a God who gets involved with his people but that remains to be seen. It gets a three, because it is at least at a mainline church level. My hope is that Patrick gives us much more in this series than he did in The Staff and The Sword.
[yasr_visitor_multiset setid=0]
Please follow and like us: