Christian Science fiction fantasy review: The Prophecy by N Quinn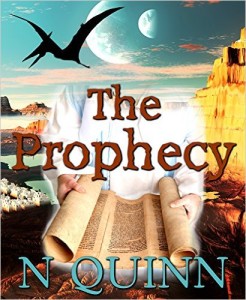 This is an enjoyable fantasy, approaching epic. The world building is very well done. The characters are complex and real. The story is compelling.
Beyond that I do not want to spoil it.
[yasr_overall_rating size="large"]
Spiritually, it's a solid 2-star
It shows a strong faith in God, a God with a promised Messiah. But there's no scripture, no Holy Spirit.  So, it's not Christian but it is Godly. There's a lot of spiritual warfare. It's violent with a lot of death, but little gore. It feels very realistic, and I found it edifying.
[yasr_visitor_multiset setid=0]